If you were hoping that the EGX gaming show was going to give you less rig envy than the average LAN party, think again, as this year's event has a number of very pretty, high-end systems, specifically on the Scan and PC Specialist booths. There's water cooling, fancy lighting and some solid cable management on show, making this writer feel like it might be time for an upgrade.
You won't miss these booths, they're two of the largest there. 
While the Eurogamer Expo is primarily a show about gaming, you can't play most of those titles unless you have a decent PC to power them, which is why companies like PC Specialist and Scan make an appearance. They have a lot of individual components for sale which they're hoping you'll pick up once the rig envy sets in.
And it is very likely to, since the full systems these two companies had on display were very impressive. The mixture of coloured water cooling liquid with unique LED placements and configurations has a dramatic effect on how cool the systems look. The straight-lined water cooling loops go a long way there too. It's something about the neatness of the lines.
I'm always rather partial to a white-loop myself. I think it looks classy. 
There wasn't much in the way of new hardware on show at these stands, as it's not the kind of year when new CPUs and GPUs appear, but there is a decent spread of some of the latest releases, so if you haven't upgraded for a while or don't have a fancy looking gaming system, that may not be the case after you visit.
Perhaps the best looking PC of everything on show though was the orange-lit system below. It was so neat and tidy, despite being huge. It had so much space inside you could get a real look at all of the components, making for a really clean look.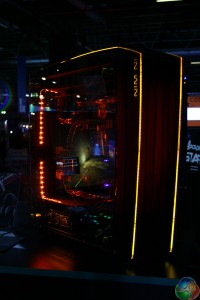 Discuss on our Facebook page, HERE.
KitGuru Says: Do you think you'll be able to take a look at these systems and resist an upgrade?