Cyberpower ships the Ultra 3 RX in its own chassis box and uses a significant amount of air bubble protection to reduce the risk of damage. There is a clear instruction document bundled with the system that highlights how a users should remove this protective packaging.

Focussing first on the chassis, Cyberpower uses the Onyxia 2.0 Black tempered glass unit. This budget mid-tower case features a tempered glass front panel and side panel and houses three 120mm intake fans in the front.
Front IO ports consist of two USB 3.0, 3.5mm headphone and microphone jacks, power and reset buttons, and the relevant LED indications.
Despite its mid-tower sizing, the Cyberpower Ultra 3 RX features ample airflow room internally. There is space for a longer graphics card should you decide to upgrade in the future. Plus, a dual- or triple-fan radiator could be mounted in the front if you fancy better cooling results.
A pair of 2.5" SSD trays sits beneath the motherboard. These trays are conveniently located for upgraders who want a quick and easy drop-in upgrade. A power supply shroud conveniently hides undesirable cable clutter and the overall design from a cable management perspective is clearly positive.
Styling of the build is largely dark and attractive. With that said, there are contrasting accents from the white/grey lines on the motherboard, red touches on the SSD, and yellow lines on the graphics card. In my opinion, the white Cyberpower 120mm ARGB fans look excellent, even when not powered up with the lights on.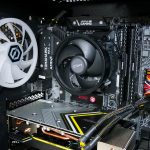 Cyberpower's choice of processor is an excellent one. The four-core, eight-thread Ryzen 3 3300X is an obvious value king at its roughly £120 price point. Clock speeds are solid, gaming performance is superb, and compute power is perfectly adequate for hobbyist video editors.
Sat on top of the CPU is the stock Wraith cooler that comes in the 2700 RPM fan version. We have seen that AMD's quad-core Ryzen 3 processors are not particularly power hungry, so I have very little concern with using the small bundled cooler. After all, any higher-than-anticipated temperature levels will simply result in a drop in clock frequency through the Precision Boost 2 algorithm.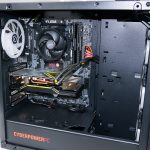 MSI's B450 Tomahawk Max motherboard forms the system's backbone. With its solid VRM design, oversized heatsinks, and strong build quality, this motherboard is clearly a superb choice and is still considered one of the best B450 options available. Cyberpower also applies the latest BIOS on this motherboard that brings the most recent AGESA version with it.
A pair of 8GB Corsair Vengeance LPX DDR4 modules give the system its 16GB capacity. Rated frequency of the modules is 3200MHz, which is good. However, the timings are undeniably loose at 16-20-20.
ASRock's 6GB RX 5600 XT Challenger D graphics card is used for pixel-pushing power. This version of the 7nm GPU features a dual-fan, 2.5-slot open-air cooler that vents into the chassis. A solid metal backplate adds a premium touch to this budget graphics card.
Cyberpower has updated the card to the latest BIOS version. As such, the GPU maximum boost clock is 1750MHz and the memory is 14Gbps. A single 8-pin power connector provides juice and the array of display connections are triple DisplayPort and a single HDMI.
An ADATA SX8200 Pro NVMe PCIe 3.0 x4 SSD at 256GB capacity is used as the system's main drive. This is a superb choice of SSD for the main system drive as it is a strong budget option with well-balanced read and write speeds. The thin metal heatsink strip also aids cooling.
Being slightly critical, an extra £15-20 for the 512GB version would have been welcomed, though the budget for this overall system is undeniably tight. Many users may have, instead, preferred a 500GB-class SATA SSD that trades speed for capacity. Overall, though, the choice of SSD is excellent.
A 1TB Seagate ST1000DM010 7200 RPM hard drive serves as the main storage location. This drive is mounted on the rear of the system which is ideal for hiding cables. Cyberpower also routes a secondary SATA cable to the second HDD slot and that is ideal for users who are likely to add more storage very quickly.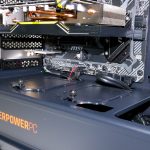 A low-cost PCIe Wireless-N card is included to provide WiFi connectivity. Initially, I was a little disappointed that a higher speed 802.11ac adapter was not provided. However, the roughly £10 difference in adapter cost is difficult to squeeze into this system's budget and is perhaps not overly critical to the majority of users.
Power is provided by a 550W InWin A55 power supply. This 80-Plus rated non-modular unit features a single 12V rail design and a 120mm cooling fan. Two 6+2-pin PCIe power connectors mean that beefier graphics cards can be installed in the future.
InWin is certainly not the first brand that springs to mind when thinking of quality PSU vendors. And the A55 unit is undeniably basic. However, it is unlikely that anywhere near 550W will be pushed through this system, so we would expect the PSU to have a relatively easy working life.
Four chassis fans in total are installed in the Cyberpower Ultra 3 RX system. The Cyberpower 120mm ARGB fans are aesthetically very pleasing both when switched off and when running in the various RGB lighting modes. I also like the remote-control method for managing lighting modes and colours as it eliminates the necessity to install OS software for RGB management.
Three 120mm fans are mounted in the front as intake and one in the rear as exhaust. This is an ideal setup in my opinion as it helps to maintain positive pressure, especially as there is an airflow gap near the tempered glass front panel that allows for airflow ingestion.
The fans are controlled by Cyberpower's RGB fan control hub. This is good from an RGB perspective, but it also means that there is no motherboard-driven fan speed control, and that is a big disappointment.