Back in mid-2015, Corsair first began showing off the Bulldog, the company's first mini-PC designed for home theatre and living room gaming. Since then, the design has been revisited and improved, leading us to Bulldog 2.0, which launched at CES today. Corsair began showing Bulldog 2.0 on the show floor this week, the system retains its sleek looks but is completely upgraded internally for the hardware requirements of 2017.
Corsair wants Bulldog 2.0 to be the ultimate living room barebones kit, packing an Intel Z270 mini-ITX motherboard from MSI and a new low-profile liquid CPU cooler so that you can keep your shiny new Kaby Lake processor running cool.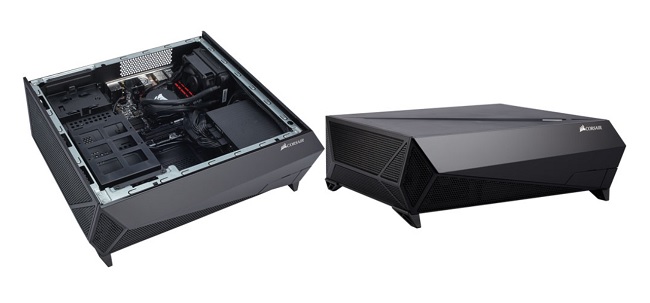 The new kit also contains the best-in-class Corsair SF600 SFX PSU, a small form factor power supply that provides plenty of power for a high-end graphics card. The case also comes equipped with two low-noise 92mm cooling fans controlled by PWM, which will help with airflow.
The Bulldog 2.0 will be available very soon in the US and UK. The previous version came in with a $399 price tag but that could change for this revision. If you would like to take a look at just how much hardware you could cram into a Bulldog case, you can take a look at our previous overview, HERE.
KitGuru Says: Steam Machines didn't really take off but the idea of PC gaming in the living room is still very much alive and cases like the Corsair Bulldog make it easier than ever to fit a high-end system underneath your TV. Do any of you have a small form factor build for the living room? What do you think of the Corsair Bulldog?