MSI is no stranger to system building at this point, following the making of its Nightblade line of micro-ATX gaming desktops. However, MSI wants to shrink things even further this year with the Vortex, a compact gaming system, custom built inside a cylinder-shaped case- it's essentially the gamer version of a Mac Pro.
There is a lot to like about this design. Inside of the case are several custom PCBs with enough room for SLI GTX 960s, GTX 970s or even GTX 980s alongside a desktop grade Intel Core i7 6700K, DDR4 RAM and a couple of SSDs.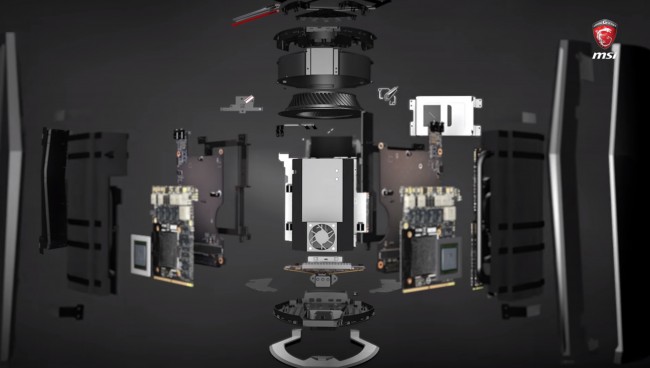 The 360° Silent Storm Cooling design is set to offer superior cooling performance as well as low noise, running at just 37 dB under full load and as low as 23 dB at idle speeds, meaning this system won't be a burden on your ears.
On the I/O side you will find four USB 3.1 ports, two HDMI ports, two mini DisplayPort connections as well as USB Type-C and Thunderbolt 3. It really is quite an impressive little machine and really shows how far high-performance CPUs and GPUs have come in terms of how much power is required and how much heat they put out.
The MSI Vortex is expected to launch sometime in Q2 of this year with a starting price of around $2000.
KitGuru Says: The MSI Vortex is a very impressive looking machine and one I would love to get some hands-on time with. What do you guys think of the Vortex from MSI? Do you like the Cylinder PC style or do you prefer the more traditional desktop look?