A year ago, buying into VR was an expensive endeavour, particularly if you didn't already have a well spec'd PC. Fortunately, prices have been getting lower as we can see by Overclockers UK's new VR PC and Oculus bundle, which is quite the steal compared to VR costs just one year ago.
The OCUK Gaming Optic: Special Edition is a £999 bundle, including a 'VR ready' PC, bundled with an Oculus Rift and the highly praised Touch controllers. This is the first VR PC and Oculus Rift combo in the UK for under a grand. The system here has been designed to include everything you need for an optimised, smooth virtual reality experience out of the box. It is also a solid PC for modern 1080p gaming, so you won't need to worry about being able to run the latest games.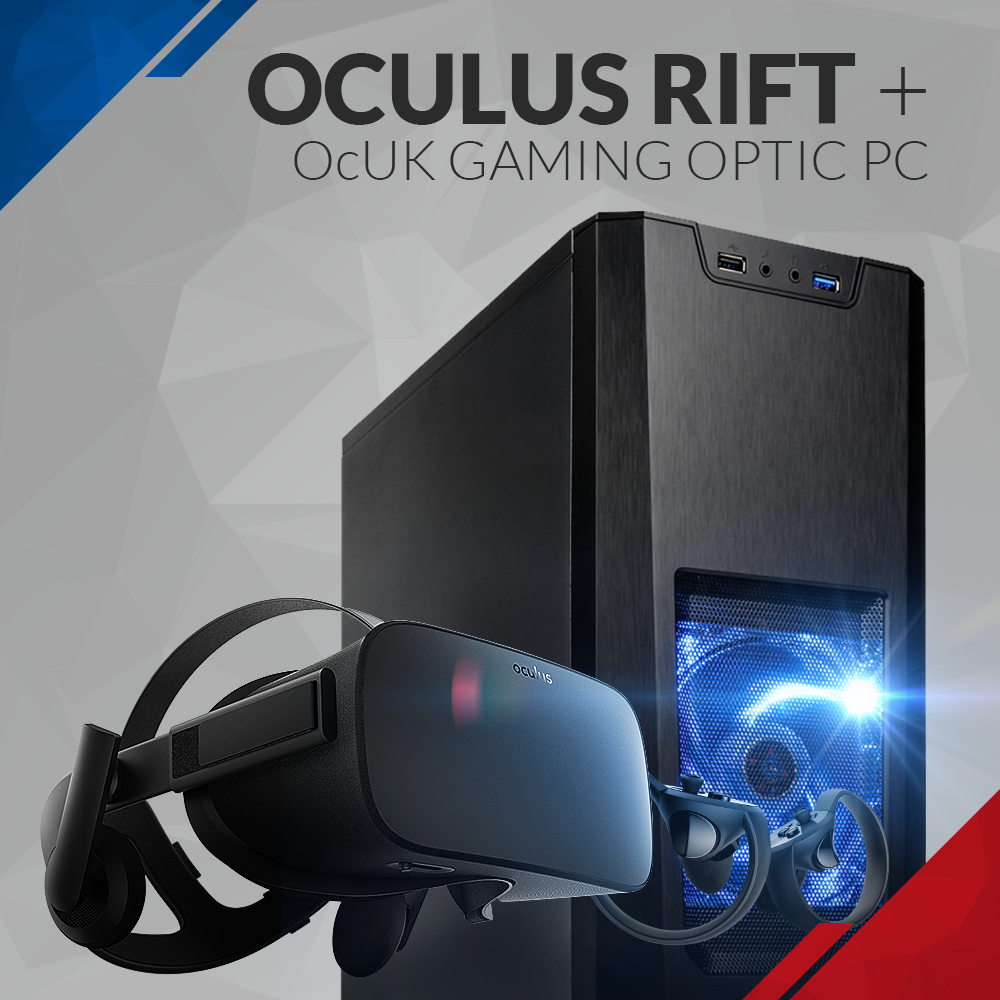 Here are the specs for the system:
Processor​: Intel Core i5-7400 3.00GHz (Kaby Lake) Processor.
Motherboard​: Asus H110-Plus Intel H110 (Socket 1151) DDR4 ATX Motherboard.
Memory​: Team Group Vulcan T-Force 8GB (2x4GB) DDR4 PC4-19200C14 2400MHz Dual Channel Kit.
Graphics​: Asus GTX 1060 6144MB Turbo Graphics Card.
Storage​: Seagate BarraCuda 1TB 7200RPM SATA 6Gb/s 64MB Cache HDD.
Case​: Kolink Victory ATX Midi Tower Gaming Case – Black.
Operating System​: Microsoft Windows 10 64-Bit.
If you have a bit more to spend, then you can upgrade the GTX 1060 to a GTX 1070, add more RAM or throw in an SSD. Aside from that PC, you also get a brand new Oculus Rift headset and the Touch Controllers, so you will be able to take advantage of motion-controlled games as well.
The OCUK Optic Special Edition bundle is available from today onwards for £999. At the time of writing, all options are in stock, so you won't have to wait around for new parts to come in.
KitGuru Says: With prices dropping and new bundles like this popping up, it will be good to see more people making the jump to virtual reality. Have many of you tried VR out on a PC yet?