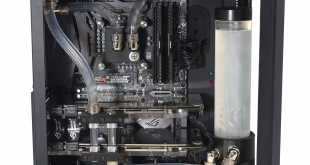 The Overclockers UK Infin8 Empress Mk3 is a high end gaming PC that comes from their Infin8 range that is 'inspired by 8Pack'. You can see their point as the Lian Li PC-O8 case looks superb and the PC is powered by an overclocked Kaby Lake Core i7 along with a pair of GTX 1080 graphics cards. Naturally the hardware is water cooled with a full custom loop and it is topped off with a nifty lighting system,
The price is considerably lower than an 8Pack system, as befits the fact that this is an Extreme PC, rather than an Ultimate PC, which means you'll save £1,000 if you choose the Empress Mk3 instead of the 8Pack Comet which has a very similar specification.
Now we have established that a PC costing around £4,500 might be considered 'budget', let's take a look at the specification.
OCUK Infin8 Empress MK3 Specification:
Case: Lian Li PC-O8 Aluminium & Glass Cube Case
CPU: Intel Core i7 7700K Kaby Lake (Socket 1151) Processor Watercooled and Overclocked to at least 5.0Hz
Motherboard: Asus Maximus IX Hero (Socket 1151) ATX DDR4 Motherboard
RAM: Up to 32GB (2x16GB) 3200MHz Quad Channel DDR4 Kit
Graphics: 2 x GeForce GTX 1080 8GB Graphics Cards Configured in SLI & Watercooled
Cooling: Full Custom Watercooling Loop
Visual Features: Synchronised Software Controlled RGB Lighting
Primary Drive: Intel 600p 512GB NVMe Solid State Drive
Secondary Drive: Samsung 840 Evo Series Solid State Drive
Tertiary Hard Drive: Mechanical SATA Hard Drive
Optical Drive: Optional
Audio: 7.1 Channel HD Audio with SPDIF I/O
Operating System: Microsoft Windows 10 64-Bit
Power Supply: Super Flower Leadex Platinum 850W 80+ Platinum Rated Power Supply
Better yet, take a look at our photos and video as this PC is all about the visual bling. Though we say it ourselves we reckon the light show from the Overclockers UK Infin8 Empress Mk3 looks superb in 4K and this video works particularly well on a high resolution screen.
The choice of components in this PC is top notch and our attention was immediately drawn to the overclocked Kaby Lake Core i7 7700K CPU. OCUK guarantees a CPU speed of at least 5.0GHz and we received a PC running at 5.1GHz so the extra 100MHz was a bonus.
Before we take a look at the performance of the Overclockers UK Infin8 Empress Mk3 there are a few points we noted about the set-up. The BIOS of the Asus ROG Maximus IX Hero motherboard was version 0505 and we wondered about updating to version 0701 but were told to leave it alone as it might break the CPU overclocking.
It was a similar story with the graphics driver as the installed version was 376.53 and they didn't want us to risk version 378.49 as it was an unknown quantity. That's fair enough but we were truly surprised to see the pair of GTX 1080 graphics cards were linked with flexible SLI bridges – surely the new rigid high bandwidth bridges are de rigeur with GTX 1080? OCUK told us that German Overclocker Der Bauer carried out an analysis of a number of SLI bridges and concluded there was little to gain by using the new HB bridge.
Actually his full conclusion was, 'taking into account how much you pay for two GTX 1080s … another $45 isn't going to make a difference' so even though it would be eye candy we expected the see the HB bridge in place.
The other thing that caught our attention is that the Overclockers UK Infin8 Empress Mk3 has a specification that is very similar to the DinoPC Raptor 2 we reviewed at a cost £3,499. The obvious differences are the case, radiators and the slightly faster overclock used by Overclockers, which seems appropriate.
The build quality is superb with an array of EKWB cooling hardware used throughout. The only exception seems to be the use of 120mm Noise Blocker fans rather than the costly EKWB Vardars we might have expected. Positioning the pump/reservoir in the front corner of the glass Lian Li gives an obvious focal point that works superbly well.
When we turned the system on we were astonished by the visual effect of the Mayhems Aurora 2 Silver as we have previously used this coolant and it looked nowhere near as good. Perhaps ours was original Aurora in which case Aurora 2 is clearly Good Stuff.
Testing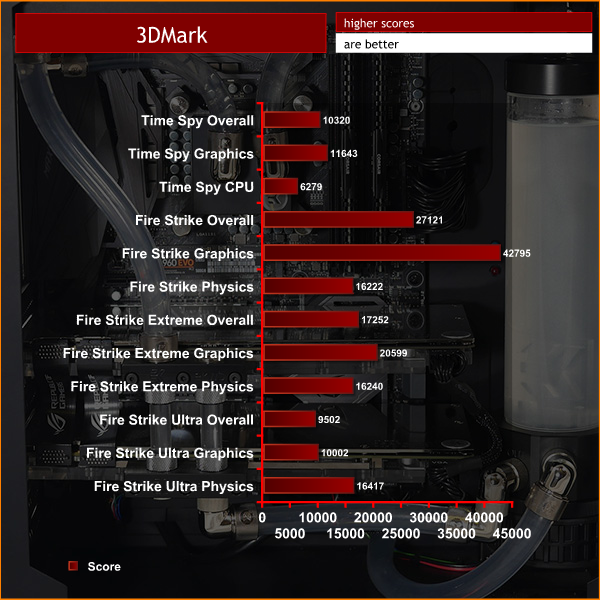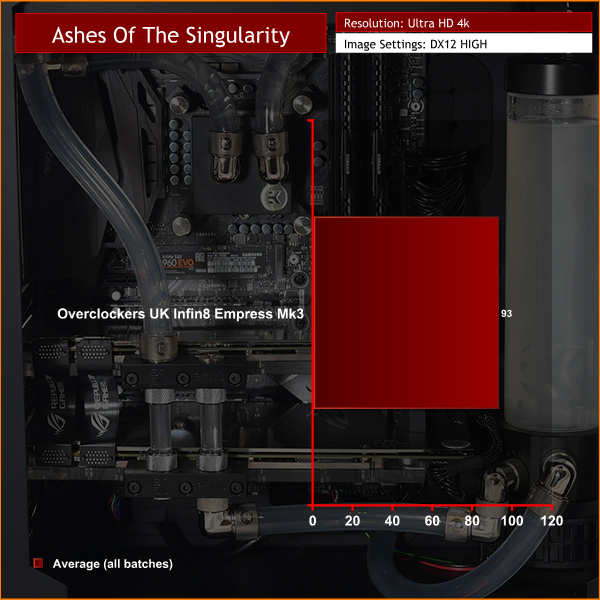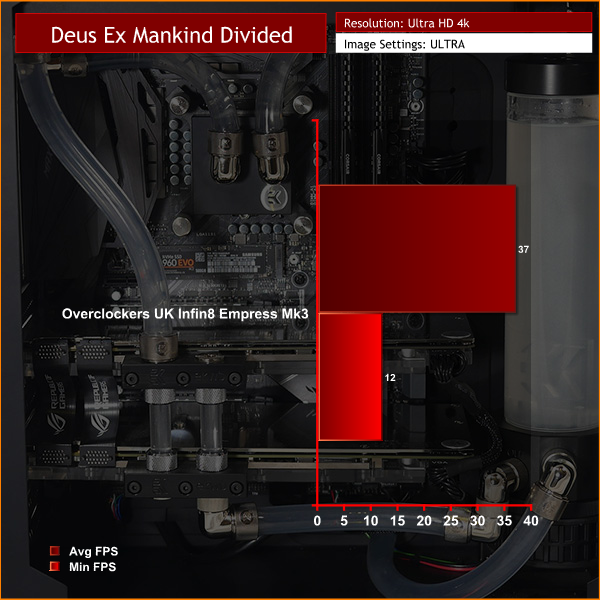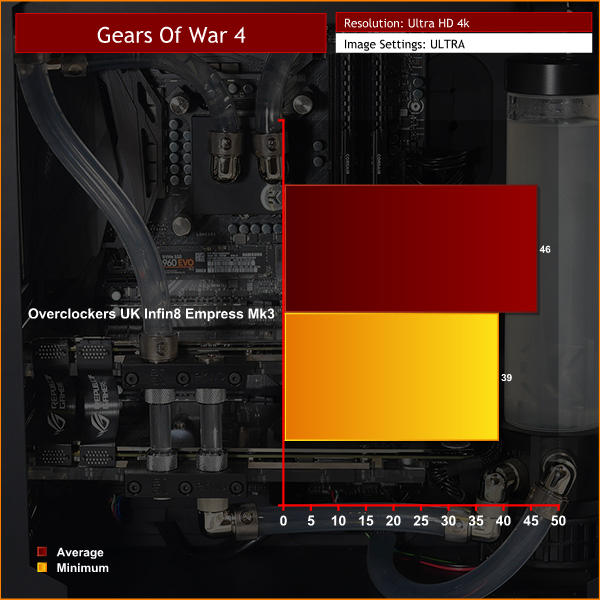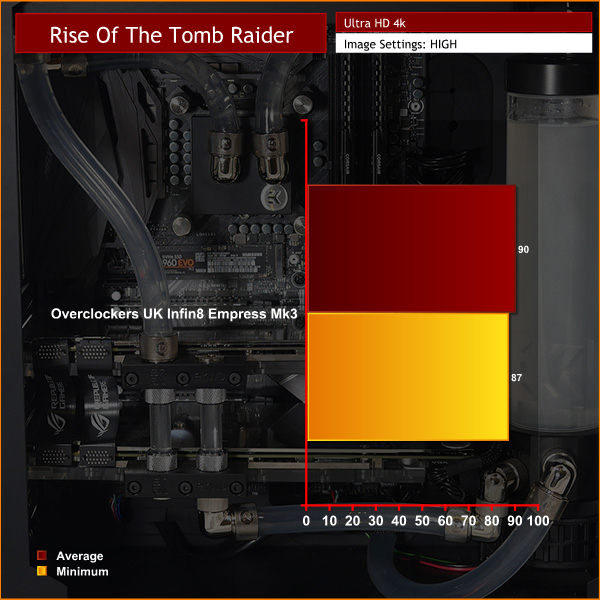 The Overclockers UK Infin8 Empress Mk3 storms along in games and does a fabulous job at 4K, however we would expect nothing less from any decent Core i7 with dual GTX 1080 graphics. The figures matched that DinoPC system almost exactly and the gaming experience was superb. Gaming below 4K on this system would be madness.
Cooling Performance.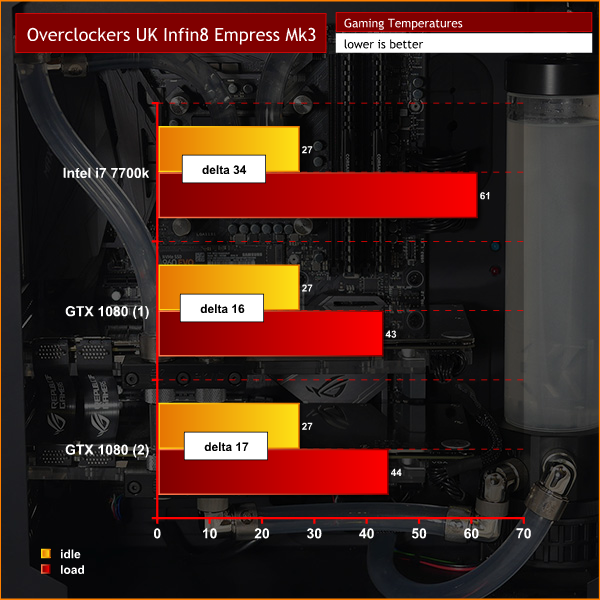 Overclockers has employed high end EKWB cooling hardware that keeps the components icy cold. Under extreme load the CPU hit 61 degrees and the graphics cards were at 43 and 44 degrees. That is cooler than the DinoPC and shows that the Lian Li PC-O8 is able to cool very nicely. It was notable that Overclockers had the fan speeds set to run relatively fast and this undeniably played its part in the excellent cooling.
Acoustics performance.
Noise levels were our single biggest complaint about the Overclockers UK Infin8 Empress Mk3 as the fans make a constant drone. The radiator and fans in the rear compartment are a fair distance from the outside air but the two fans in the roof of the case are quite intrusive. We have little doubt you could moderate the noise with some judicious work in the BIOS however we wanted to test the PC 'as delivered' and not mess around with settings that might upset the overclocking.
Closing Thoughts.
We loved the Overclockers UK Infin8 Empress Mk3 and the build quality and visual appeal are top notch. If you're looking for a chunk of eye candy with amazing lighting that acts as a visual focus for your room then you need look no further.
The performance is also amazing and we have to hope you will game at 4K with this beast of a PC.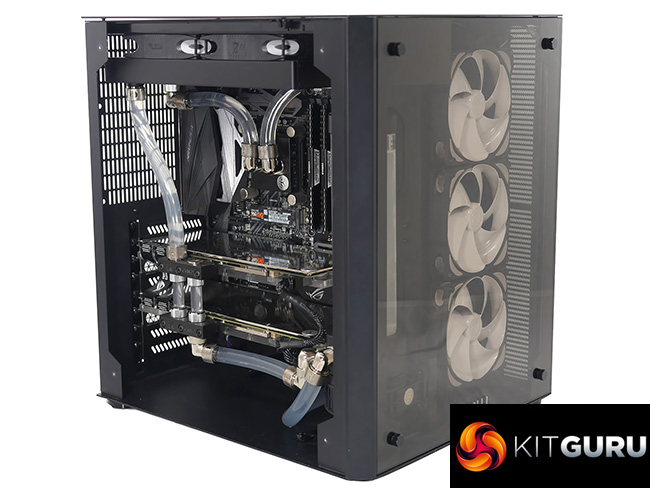 We weren't massively happy about the noise output of the cooling fans however we understand this is a necessary evil when you use this level of overclocking.
Our other gripe is the price. Of course you will pay a high price for this level of hardware but it doesn't need to be quite this expensive. The fact is that the dedicated, skilled enthusiast could build this system themselves and save a chunk of money in the process.
The fact is, most people in the market for an Overclockers UK Infin8 Empress Mk3 would have little interest in building a high end PC but simply want the fun of gaming, no matter the cost.

Buy from Overclockers UK over HERE.
Pros:
Excellent 4K gaming.
Superb visual appeal.
Low temperature for the CPU and GPU.
Plenty of scope for future upgrades.
Cons:
It is fairly noisy.
You will need to dust and clean this PC regularly.
Fairly big and heavy.
The price is steep.
KitGuru says: A hugely impressive 4K gaming PC.