Alongside our in-depth technical reviews, here at KitGuru we also like to present a variety of system builds. DeepCool recently got in touch to say they have some new products to showcase so we thought this would be the ideal opportunity to build a new gaming rig. The main focus of the build is the new DeepCool CK560 case, with a high airflow curved front panel, but what is it like to build with? Let's find out.
Timestamps:
00:00 Start
00:55 CK560 Case
07:16 AK620 Cooler and PQ1000M Supply
08:10 Other hardware
09:15 Time Lapse build
19:02 Build complete
To complement the DeepCool CK560 chassis, we also have one of the company's latest dual-tower coolers, the AK620, and a new 1000W PQ1000M DeepCool modular power supply for this build. The aim is to use these parts along with additional hardware from other leading brands to see what we can come up with. We end up creating a mid-high end gaming system build with a total cost of around £1600 in the current market.
System Specification
Since this is a build video and not a review, I'm not going to enforce my opinion on these new DeepCool parts too strongly, however, there are a couple of things worth mentioning. I'm usually an admirer of the relatively low cost and high build quality of DeepCool cases. The CK560 lives up to this tradition in most areas, However, the front panel is extremely flexible, so you need to be careful not to accidentally bend the steel.
Other than that, build quality seems like it's up to the usual DeepCool standard. The front 120mm RGB fans are a bit loud at higher RPM so I set a custom curve which meant that while the CPU temperature was under 80°C the fans would run around 550-600RPM, which keeps the noise level under low load to an acceptable level. The RGB effects of the fans are OK and can be controlled by the front panel LED button.
The finished system looked smart, yes, it's a basic system but there is nothing wrong with that. It's the kind of system you can turn on, do a bit of gaming and more or less forget about maintenance (apart from the odd cleaning of dust filters) since it's completely air-cooled.
Thermal Performance
Even though this is a build video and not technically a review of anything, we still thought it might be interesting for you guys to see some cooling performance results using this case/CPU cooler combination. So I quickly ran my usual simultaneous Cinebench R23/3DMark Time Spy 60 minute stress test to see how it all behaved.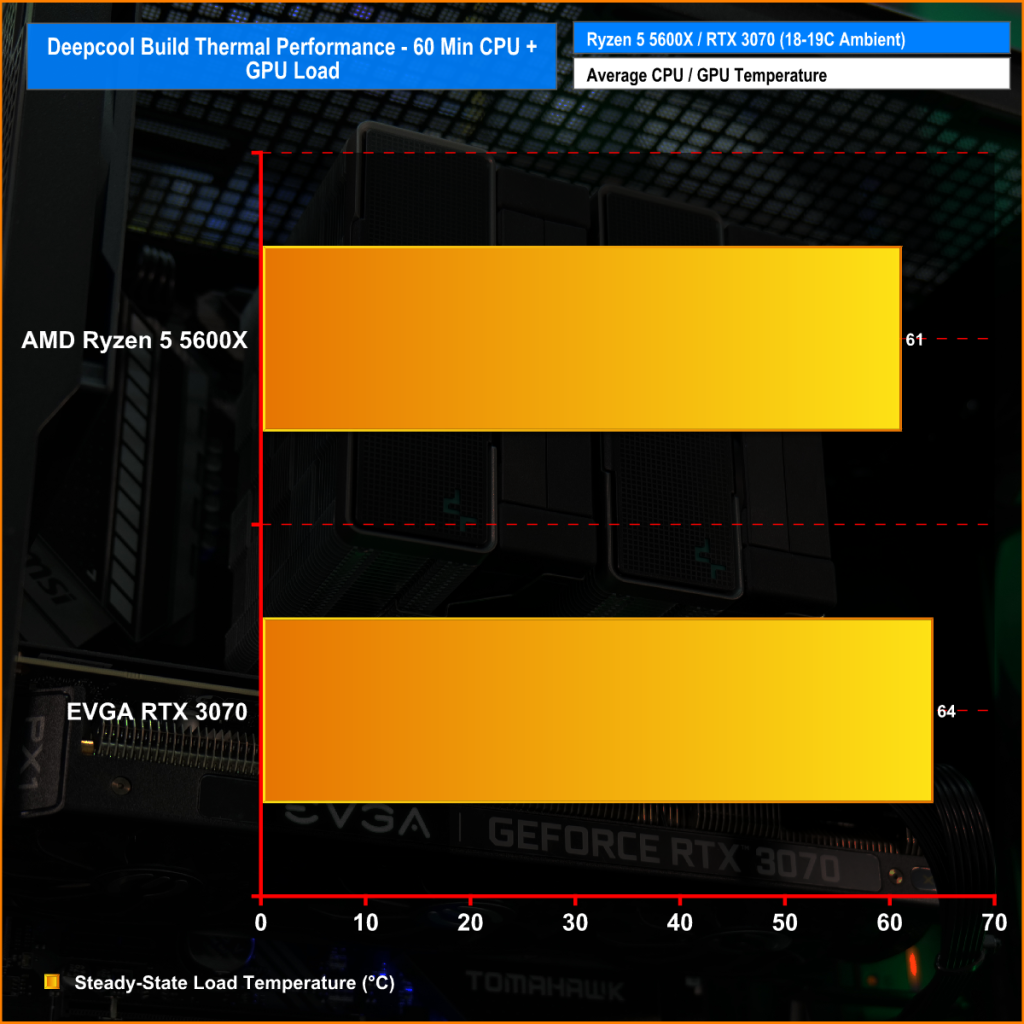 Granted, the AMD Ryzen 5 5600X isn't the most difficult CPU to cool, but the combination of the high airflow CK560 chassis and the AK620 dual tower cooler did an amazing job, keeping the CPU temperature at a very frosty 61°C while the RTX 3070 maintained under 65°C average temperature during the stress test.
Discuss on our Facebook page HERE.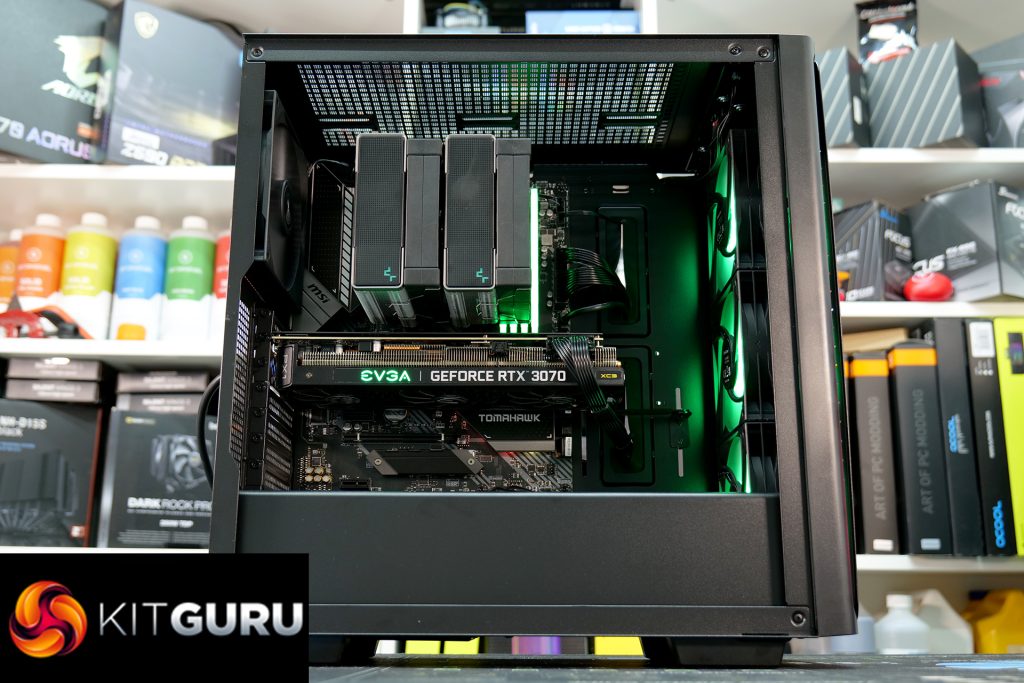 KitGuru says: We were happy with how this latest DeepCool system build turned out even though it's a basic looking system, thermal performance was excellent. What do you guys think of these new DeepCool parts?