Since ditching its Gamer Storm branding, Deepcool has gone all sensible and grown up with a new slick looking company logo and subtle packaging completely shaking off the gaming tag that is often used by some to make products seem 'better than they are'. We have been expecting a new wave of Deepcool products for a while and today we get the opportunity to look at two products from this new Deepcool era. But are they any good? Let's find out.
Timestamps
00:00 Start
00:15 Introduction
01:02 Peel Porn – removing side panels
01:46 Deepcool CG560 up close
09:54 Deepcool AK620 Dual Tower CPU Cooler
12:53 The build specifications
14:07 Basic Install (timelapse)
14:39 LGA1700 bracket chat
16:01 System build (timelapse)
19:26 System build Discussion
22:43 Measuring Thermal Performance
24:57 James closing thoughts
Kicking off is the Deepcool CG560 mid-tower chassis, the first Deepcool case I have seen since the company transitioned to its new look. There is no sign whatsoever of Gamer Storm or anything gaming related when reading up about the CG560 which is something I like. Too often products are given a gaming tag, as if gaming means better or more expensive when most of the time it simply isn't. So if the CG650 isn't a gaming case then what is it?
Well, yes the CG560 can be used to build a gaming system inside, in fact, Deepcool specifically says in its marketing bumf that the CG560 is "ready for the high-end components of your upcoming new build" so this case should be perfect for a gaming system or high-end office system, video editing machine, CAD system or whatever. To put it to the test, we decided to build a high end, Deepcool themed system using the CG560 and the new Deepcool AK620 dual tower air cooler.
As well as the CG560 Deepcool has launched the CG540, another case of the same specification and design but with a tempered glass front panel as an alternative to the "crosshair" vented panel of the CG560, so users can choose between high airflow or not. The CG540's tempered glass also sports a "crosshair" pattern but it is still a solid glass panel.
The new Deepcool AK620 CPU air cooler is a compact dual tower cooler, featuring dual fluid dynamic bearing 120mm fans with a speed range of 500-1850 RPM and PWM control. The AK620 is compatible with all current Intel and AMD mainstream desktop platforms and has a maximum heat dissipation rating of 260W, which should be enough to cool high performance CPU's.
We will test the performance of the Deepcool AK620 later, but first, let's take a look at the features of this new cooler and mid-tower case to see how they stack up against the competition. The CG560 chassis is set to be released in October priced at £74.99 MSRP and the AK620 is out in September with an MSRP of £59.99.
Deepcool CG560 Features:
Mid-tower ATX chassis that supports E-ATX/ATX, Micro ATX and Mini ITX motherboards.
Airflow optimised front panel design with stylish "crosshair" pattern mesh and large side vents to allow for ample airflow to enter the system.
Equipped with four cooling fans, 3 x 120mm front-mounted RGB fans and a single 140mm black non-RGB fan as a rear exhaust.
Supported cooling hardware includes a total of up to 6 x 120mm fans or 5 140mm fans. The front panel supports 360mm, 280mm or 240mm radiators. Either 240mm or 280mm radiators can be installed in the roof and a 120mm or 140mm fan can be installed in the rear panel.
Storage options include two 2.5-inch drive bays mounted on the rear of the motherboard tray. A HDD caddy located under the PSU shroud can also accommodate two 3.5-inch drives.
CPU coolers up to 175mm tall, graphics cards up to 380mm long can be installed in the main compartment and power supplies of up to 160mm in length can be installed under the PUS shroud (with the HDD caddy in place)
Includes dust filtration on the front panel, top panel (Magnetic) and below the power supply vent.
Deepcool AK620 Features:
High-performance dual tower cooler with 6 copper heat pipes and a maximum heat dissipation power of 260W.
Includes two low noise (28dBA) 120mm fans with fluid dynamic bearings and a speed range of 500-1850 RPM controlled by PWM signal.
Precision machined convex copper base plate and dense aluminium fin stack array.
Dimensions are 129mm x 138mm x 160 mm (heatsink with fans installed) and 43mm RAM clearance height.
Compatible with all current Intel and AMD mainstream desktop platforms including Intel LGA2066/2011-v3/2011/1200/1151/1150/1155 and AMD AM4/AM3+/AM3/AM2+/AM2/FM2+/FM2/FM1.
System Installation
We wanted to test Deepcools claim that the CG560 is "ready for the high-end components" which we did by installing a high-end gaming system inside the chassis. Overall the build went very smooth. We may have made it easy going with our selection of hardware using a CPU air cooler, an M.2 SSD, no 2.5 or 3.5-inch storage and by using the stock fans. Nevertheless, this is still a very powerful build.
Installation of components such as the motherboard and graphics card were hassle-free since there is plenty of space inside the chassis and things such as the motherboard standoffs, rear I/O cutout and PCI slot cutout all lined up very well. The core chassis structure feels solid and well put together, the only slight minor issue I had with build quality was with the cheap, flexible plastic front panel which in no way impacts the build experience.
Having four fans included with the case is a real bonus and is probably ample for most systems, three of the fans being RGB is an added bonus and thankfully Deepcool doesn't require any fancy (or annoying, decide for yourself) RGB controllers for the RGB to work. Either connect directly to the motherboard using the supplied 3-pin 5v ARGB cable or use the RGB hub that is built into the case, which allows you to skip through various RGB colour schemes and patterns using the button on the front I/O panel.
One thing missing from the CG560 that might irritate some users is a USB Type-C port. However, this doesn't concern me too much as most peripherals still ship with USB-C to USB-A cables anyway. What did irritate me slightly is the fact that Deepcool has taken away the GPU support bracket that we have seen in its previous cases, and in this build, it would have been very useful as the Sapphire RX 6800 is suffering from unsightly GPU sag which would have been eliminated if the GPU support bracket was there.
So building a high spec system inside the CG560 can be easy, likewise is the installation of the new AK620 cooler. The installation is so simple that it can be done without any hassle while the motherboard is fitted to the case and with the system stood upright (vertical). Noctua's SecuFirm2 installation for example is difficult to do with the system upright due to the fiddly spacers and screws arrangement, the Deepcool installation method is better in my opinion.
To install the AK620, remove the stock AM4 plastic brackets, screw the Deepcool standoffs to the stock AM4 backplate, attach the Deepcool AM4 brackets to the standoffs using thumbscrews, bolt down the cooler to the brackets using the supplied long reach Philips screwdriver and clip on the fans, simple as that. Overall the installation should take no longer than 10 minutes, even the most novice PC builder should find it a breeze.
The cooler offers 43mm RAM clearance with the fans fitted flush to the top of the heatsink (as they are fitted out of the box). There is some adjustment possible by moving the clips/fans up on the heatsink, we had to move the fans up by approximately 5mm to clear the G.SKILL Trident Z RGB memory which isn't excessively tall RAM. If used with something like Corsair Dominator Platinum RAM with taller heatsinks, more adjustment of the AK620 fan height will be necessary which will, in turn, increase the overall height of the cooler so watch out for this if you have limited cooler height in your case.
Thermal Performance Testing
As well as finding out how good this case and cooler are to build a system with, we wanted to measure how well the Deepcool AK620 holds up in terms of performance against a similar rival dual tower cooler, one of the best on the market, in fact, the Noctua NH-D15S.
To simulate thermal demand we run the Cinebench R23 and Heaven benchmark simultaneously for 30 minutes to fully load the system. This should give the whole system enough time to reach its constant steady-state temperature. With this data, we can compare how the CPU cooler handles the thermal demand.
First measuring the performance of the Deepcool AK620, letting the system fully cool and then repeating the same test on the system with the Noctua NH-D15S installed as a comparison. During the thermal performance test, ambient air temperature is 22-24⁰C.
Only stock case fans will be used unless otherwise specified. All fans and pumps (where applicable) will be set to their silent fan curve profile as controlled by the motherboard BIOS. The Case will be in its default configuration for testing meaning that all panels and dust filters are installed and stock fans are in the default locations as set by the factory.
All temperature measurements are presented as Deltas – the ambient temperature has been deducted from the CPU/GPU temperature giving us a Delta. Data shown in the charts represent the average CPU/GPU temperature over the length of the test as measured by HWiNFO.
Test System Specification:
CPU: AMD Ryzen 9 5900X
Motherboard: Asrock X570 Steel Legend
Memory: 32GB kit (4x8GB Modules) G.SKILL Trident Z RGB DDR4-3600 C16
Graphics: Sapphire Radeon RX 6800 Nitro+
Storage: 2TB Kioxia XG6-P PCIe Gen3x4 NVME M.2 SSD
CPU Cooler: Deepcool AK620 dual tower
Power Supply: Deepcool DQ750-M-V2L 750W 80+ Gold
Case: Deepcool CG560 Mid Tower
Case Fans: Deepcool CG560 stock fans
Operating System: Windows 10 21H1
AK620 Thermal Performance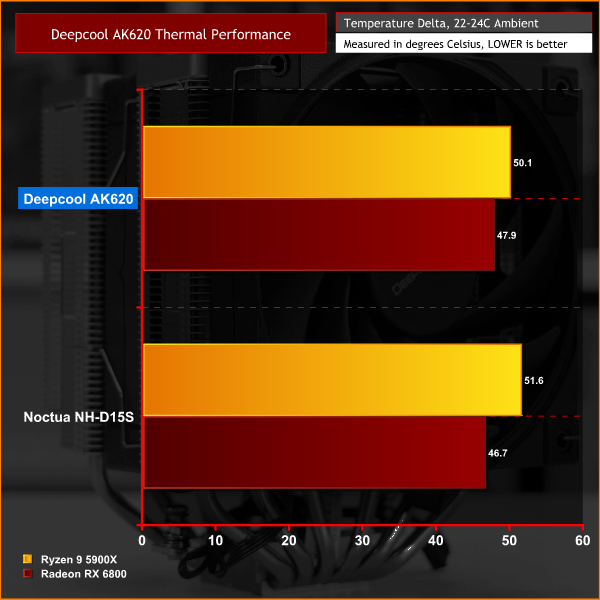 Interestingly the Deepcool AK620 and the Noctua NH-D15S are very evenly matched in terms of thermal performance during our test. Initially, this seems quite impressive of the AK620 since it costs considerably less than the D15S. However, we must note that the AK620 uses two 120mm fans while in its standard configuration the D15S has just one fan.
Nevertheless, the AK620 MSRP price is at least £20 cheaper than the D15S. Adding another fan to the D15S may improve thermal performance but this would bump the cost up even further, around £20-£25. With this in mind and with the AK620 being a more compact package, it seems like excellent value for money performance.
It is also worth mentioning that with the CPU coolers fans running in the silent motherboard fan profile during the test, coolers produced virtually the same noise levels at around 41dBA, which is very quiet for a system under high load. Again this is another major plus point for the Deepcool AK620.
Final Thoughts
My initial thoughts about the Deepcool CG560 chassis was that it had the feel of a case that had been designed to a cost with its less than premium flexible plastic front panel, but after spending some time building a system in the case my mind changed a little. The build quality of the chassis frame seems very sturdy and installing a system inside turned out to be a very straightforward and hassle-free process.
Granted, we didn't push the case to its limits in terms of storage or cooling by using only a single M.2 SSD and the AK620 dual tower air cooler. However, we suspect that most systems that will be built inside this case will be of a similar configuration anyway. Maybe an AIO will be used in some scenarios but even with an AIO fitted in this case you shouldn't come up against any major challenges with the build.
Installing the motherboard, GPU and power supply were simple, all the standoffs, cutouts and screw holes lined up perfectly. The four fans included with the case operated quietly when connected to the motherboard and run with the silent profile in the ASRock X570 Steel Legend BIOS. The inclusion of four fans with a case under £100 seems like good value too, especially when three of those fans are ARGB and include a standalone controller, ideal if your motherboard doesn't support ARGB connectivity.
Taken as a whole, the Deepcool CG560 is a good case. It has good airflow that should be enough to keep high-end systems cool, it supports an extensive range of hardware and it's not a bad looking case either. Overall build quality is slightly let down by the cheap plastic front panel and I can't understand for the life of me why Deepcool didn't include the very handy GPU support bracket that we have seen in its other recent cases.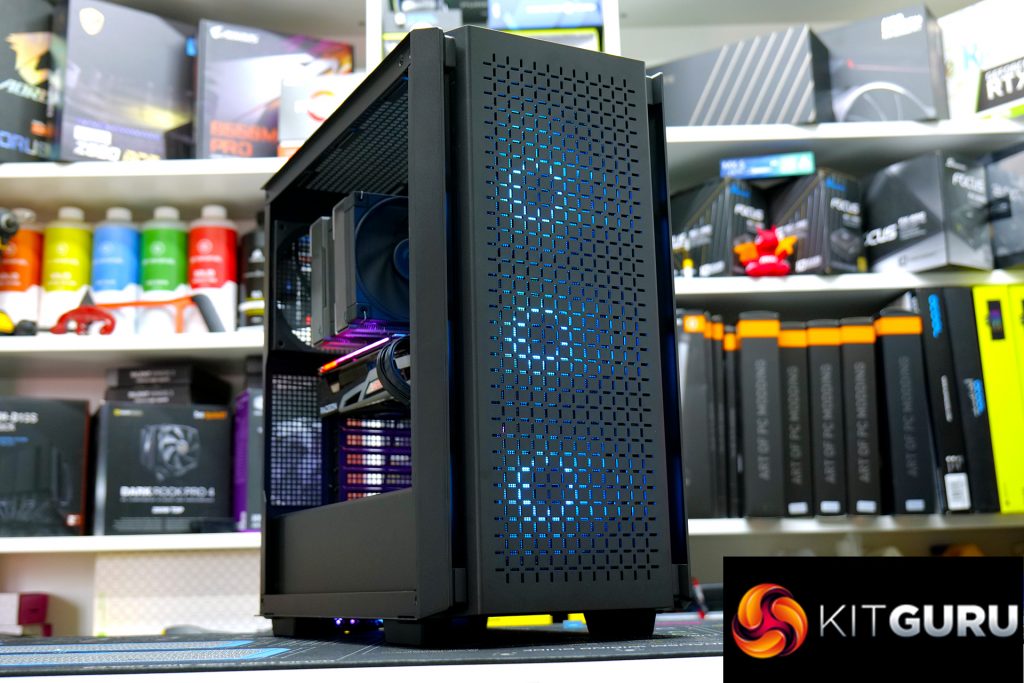 In contrast, Deepcool has absolutely nailed it with the AK620. This is possibly the best value high-performance dual tower air cooler on the market. At under £60 MSRP with great build quality, excellent thermal performance and low noise output, the AK620 seem like a bargain. To be trading blows with the Noctua D15S during our test was very impressive.
Yes the Deepcool AK620 has one more fan than the D15S but it is also at least £20 cheaper to buy. Adding an extra fan to the D15S might mean it outperforms the AK620 but this would also mean the price of the D15S increases by an additional £20-£25, which makes the AK620 sound like exceptional value for money.
The AK620 is a more compact package compared with dual-tower coolers such as the D15, D15 and the Deepcool Assassin 3, which means it has less cooling surface area but it still performs great and the smaller area taken up inside the chassis by the AK620 means it will be compatible with smaller chassis. Also, noise output of the AK620 during our test was neck and neck with the D15S which is an achievement in itself.
So, if you are looking for a high performance, low noise dual tower air cooler, the Deepcool AK620 is definitely worth considering. If you can get over the bendy front panel and missing GPU support bracket, the Deepcool CG560 chassis won't be a bad purchase either. The Deepcool AK620 is available in September priced at £59.99 MSRP while the CG560 will be available for purchase in October priced at £74.99 MSRP.
Deepcool CG560 Score
Pros:
Includes four fans, 3 RGB.
Good cooling support.
Easy to build a system in.
Cons:
Cheap feel to the front panel
Missing the handy GPU support bracket seen in other Deepcool cases.
Deepcool AK620 Score
Pros:
Easy installation.
Good value for money.
Excellent thermal performance.
Cons:
No LGA1700 bracket in the box
KitGuru says: While the CG560 had some minor flaws, it is still a decent chassis for high specification systems. The AK620 on the other hand seems like an exceptional value, high performance and quiet CPU cooler. I like it a lot, What do you guys think?
Be sure to check out our sponsors store EKWB here