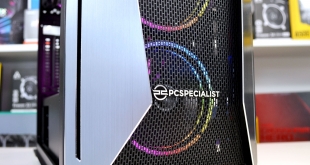 While the majority of us at KitGuru are enthusiasts who prefer to build our own systems out of component parts from the ground up, we do realise the importance and convenience of pre-built systems. Especially those who are a little less confident about going down the self-build route. This is why we like to keep up to date with what is available on the pre-built market, so we can provide you guys with valuable buying information.
Today I'm taking a look at a brand new pre-built gaming system from the folks over at PCSpecialist. The Ignite X1 adds another option to the already extensive range of gaming PCs available from them, this one is entirely based around an AMD platform, which means it is equipped with the latest AMD Ryzen 3000 processor, B450 motherboard platform and an AMD Radeon graphics card.
Watch via our Vimeo channel (below) or over on YouTube at 2160p HERE
What interests me most about this system is the choice of CPU, PCSpecialist has installed an AMD Ryzen 9 3900 in the Ignite X1 system. This processor is currently only available to OEM system builders and is basically a de-tuned Ryzen 9 3900X with a lower base frequency of 3.1 GHz and a 65W TDP rating. It has the same 12 cores and 24 threads as a 3900X so it will be very interesting to see how this system performs compared with a Ryzen 9 3900X based gaming PC.
Looking at the specification of the PCSpecialist Ignite X1, it becomes evident that there has been plenty of thought put into the configuration of this system. It seems as though the aim of the Ignite X1 is to offer a competent gaming PC at a reasonable price, there are no unnecessary gimmicks and a few of the usual gaming bells and whistle have been purposely left out to keep the cost down.
For me, this is great as it retains all the core elements needed for a gaming system without having added any of the useless stuff just to sell the product. PCSpecialist has chosen a compact mid-tower chassis that has quite an understated appearance when the system is turned off, at first glance, you could be forgiven for thinking this is a basic system, only the tempered glass side panel and large front mesh panel reminds you that it is a gaming PC.
Another measure PCSpecialist has taken to keep costs as low as possible is the relatively small CPU tower cooler. In some circumstances this would worry me, during long gaming sessions CPUs can become rather hot, especially if the case is packed full of high-end hardware. However, since the AMD Ryzen 9 3900 has this low 65W TDP rating, CPU temperature shouldn't be such a problem in this system.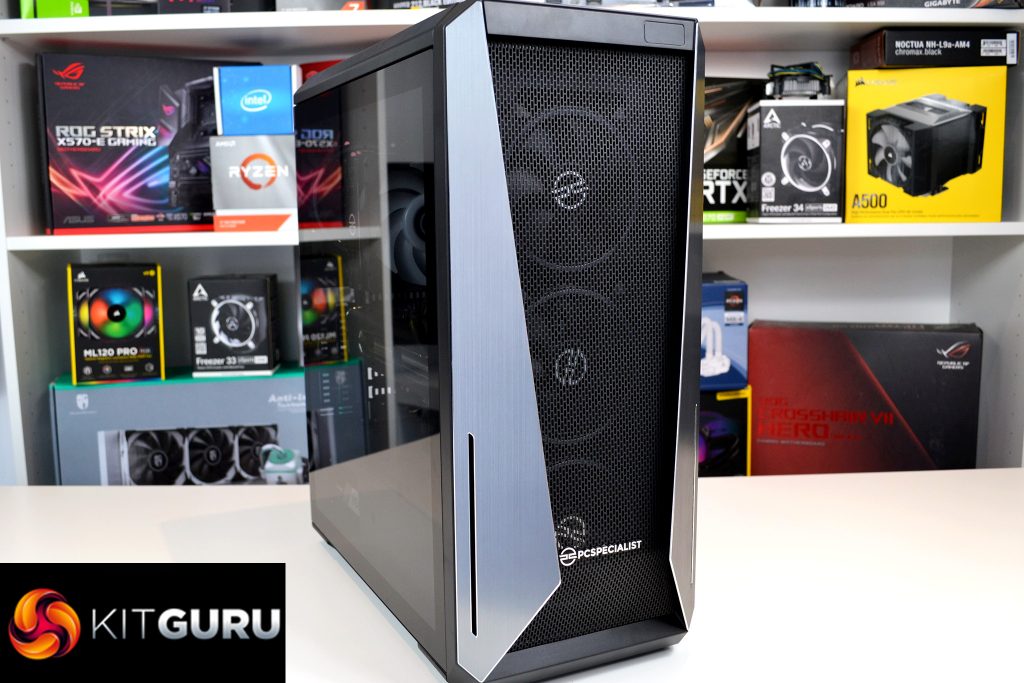 PCSpecialist has also resisted the temptation to go with an expensive AMD X570 motherboard platform with the Ignite X1 and has instead chosen a more cost-effective Gigabyte B450 Aorus Elite motherboard. While you may miss out on some of the new Ryzen 3000 features with the B450 platform, such as PCIe 4.0, this really won't be noticeable in a gaming system and the cost saved in this area can be put to better use elsewhere, where gaming performance will be improved.
One of those areas where you will see gaming performance affected by poor component choice is with the graphics card. The Ignite X1 has an XFX Radeon RX 5700 XT THICC II graphics card, currently the RX 5700 XT is AMD's top discreet graphics card available to mainstream consumers, so when sticking with an all AMD themed system this is pretty much as good as it gets.
Another component that can help with gaming performance, specifically with game load times is the storage device. The presence of an M.2 SSD is a must in gaming systems these days, not only does it improve game loading times it also boosts the overall snappiness of the system in windows, to provide a pleasant overall experience. PCSpecialist has equipped the Ignite X1 with a 500 GB Samsung 970 EVO PLUS NVMe M.2 SSD which is an excellent choice and should allow plenty of space to install some of your favourite and most played games.
One component choice that does seem a little weak compared with other high spec parts in the Ignite X1 system is the power supply. I would normally like to see at least an 80 Plus Gold rated unit in a gaming system as it will deliver stable power with efficiency up to 90%. PCSpecialist has chosen a Corsair VS-650 650W unit that is just 80 Plus White or 'standard rated' with only 80% power efficiency. This is a little disappointing.
That said, the overall specification of the PCSpecialist Ignite X1 reads very well and should produce a solid AMD based platform for gaming. I expect the system to handle 1080p (1920 x 1080) resolution, high graphical fidelity gaming with ease, It should also be very capable at 1440p (2560 x 1440) resolution. 4K (3840 x 2160) resolution gaming should also be possible with the Ignite X1 system with reduced image quality, but maybe not optimal in modern game titles.
Another benefit of a pre-built system for users who are daunted by the idea of self-building is the warranty and technical support. PCSpecialist offer a three-year warranty with the Ignite X1 system as well as a local rate technical support helpline and active support forums online. The Ignite X1 will be available to purchase directly from the PCSpecialist website store priced at around £1350, which seems like a reasonable price for a gaming system of this specification.
Key features
High airflow case with mesh front panel
RGB fans
RGB lighting strips
Tempered glass window panel
High-performance CPU
Specification
Case – PCS WRAITH RGB MID TOWER CASE
Processor (CPU) – AMD Ryzen 9 3900 12 Core CPU (3.1GHz-4.3GHz/70MB CACHE/AM4)
Motherboard – Gigabyte B450 AORUS ELITE: DDR4, USB 3.1 – RGB Ready
Memory (RAM) – 16GB Corsair VENGEANCE DDR4 3200MHz (2 x 8GB)
Graphics Card – 8GB AMD RADEON RX 5700 XT – HDMI, DP – DX® 12
1st Storage Drive – 2TB SEAGATE BARRACUDA SATA-III 3.5″ HDD, 6GB/s, 7200RPM, 256MB CACHE
1st M.2 SSD Drive – 500GB SAMSUNG 970 EVO PLUS M.2, PCIe NVMe (up to 3500MB/R, 3200MB/W)
Power Supply – CORSAIR VS-650 650W
Processor Cooling – PCS FrostFlow 100 RGB Series High-Performance CPU Cooler (AMD)
LED Lighting – 50cm RGB LED Strip
Sound Card – ONBOARD 6 CHANNEL (5.1) HIGH DEF AUDIO (AS STANDARD)
Wireless/Wired Networking – WIRELESS 802.11N 300Mbps/2.4GHz PCI-E CARD
Operating System – Windows 10 Home 64 Bit – inc. Single Licence
Office Software – FREE 30 Day Trial of Microsoft Office 365 (Operating System Required)
Anti-Virus – BullGuard Internet Security – Free 90 Day License inc. Gamer Mode
Warranty – 3 Year Standard Warranty (1 Month Collect & Return, 1 Year Parts, 3 Year Labour)
Retail price £1,350 inc VAT.
Be sure to check out our sponsors store EKWB here