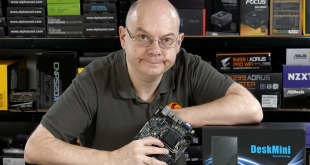 Anyone looking for a barebones system to build a highly integrated Windows 10 PC may find themselves considering the ASRock DeskMini H470W. For just over £200 you get a tiny STX chassis and motherboard along with an external power supply of the type used with a laptop. You need to supply a 10th Gen Intel CPU, DDR4 SODIMMs and an SSD and could have your PC up and running for somewhere around £500.
Watch the video via our VIMEO Channel (Below) or over on YouTube at 2160p HERE
Specification
Supports Intel 10th Gen LGA1200 processors, up to 65W
Dual DDR4-2933MHz SODIMMs, up to 64GB
Multi Video Outputs: 2 x DisplayPort, HDMI & D-Sub
1x Alternate Mode USB Type-C
1x USB 3.2 Gen1 Type-C port
1x Ultra M.2 PCIe Gen3 x4 Slot
2x 2.5-inch HDD/SSD Tray with RAID 0/1
1x M.2 (2230) Wi-Fi Slot
As you will see in our video, once we had installed an Intel Core i5-10600 CPU we considered using a Silverstone NT08-115XP CPU cooler but were unable to proceed as the 80mm fan clashed with the ASRock STX case. As a consequence we followed ASRock's advice and used a stock Intel cooler for the first time in many years. Another point we mentioned during the build is that our 1TB WD Blue M.2 SSD was left uncovered and did not have the benefit of a heatsink. We made the build slightly more complicated by installing two 2.5-inch SATA SSDs on the underside of the motherboard tray, which led to a bit of fiddling around with the combined power and data cables.
Sliding the motherboard assembly inside the chassis is a simple procedure however we were grateful we were not using any of the optional accessories that provide RGB lighting, extra USB ports at the front or an extra audio jack at the rear. That would involve screwing the mounting bracket to the case, attaching the header to the motherboard and then trying to keep the cable(s) away from the fan on the CPU cooler.
Testing and Performance
System specification
Barebones: ASRock DeskMini H470W
Motherboard: H470M-STX
CPU: Intel Core i5-10600
Memory: 16GB Samsung DDR4-2133MHz SODIMMs
SSD: 1TB WD Blue M.2
We tested with the BIOS on default settings so our 65W CPU initially boosted to 75-80W and ran at 4.4GHz on all six cores before pulling back to 65W and 4.0GHz on all cores. CPU performance was snappy and responsive in day-to-day tasks such as using a browser, however you will have seen and heard in our video how the system struggled to cope with Adobe Premiere.
As we pointed out, the integrated Intel HD 630 graphics are low end and while they can handle video decoding they are of little use when it comes to gaming or other graphics-related tasks, and of course the ASRock DeskMini H470W does not support the use of a graphics card. This puts the emphasis on the CPU which is perfectly fine, until you start to stress the system with an intensive workload such as Blender.
Testing and Performance Overview
This creates a clear dividing line between customers who are perfectly happy paying £500-£600 for a tiny Windows PC that will only ever be used for light duties such as creating spreadsheets and presentations. On the other hand we have students who are trapped at home under lockdown and who find it impractical to create projects for school or university using a smart phone. That latter category will likely have found that a Chromebook lacks the grunt to power their applications and the next step is a cheap but fully featured Windows PC.
Unfortunately the ASRock H470M-STX motherboard has a rudimentary power delivery system that is based on a 3+1 configuration with Vishay SiC654A DrMOS 50A power stages. When we stressed our Core i5-10600 we were able to push the VRMs to an internal temperature of 100 degrees C which is somewhat disturbing.
This system supports 65W CPUs up to ten cores and it feels like ASRock would have been well advised to either include more power stages or to reduce support to 35W CPUs. The fact the heat sink on the VRMs is tiny merely demonstrates that power delivery was not a key aspect of the design of this motherboard.
Closing Thoughts
We need to address the key point in this review which is that we judge the VRMs on the ASRock H470M-STX motherboard to be wholly inadequate. You might consider this DeskMini H470W would work perfectly well with a Pentium Gold G6400 or Core i3-10100 and that would make a good deal of sense to us, however ASRock has shot their own fox.
For one thing the CPU support list goes all the way up to Core i9-10900, which makes very little sense to us. Then we have the extensive BIOS which is loaded with options we simply did not expect to see. One is Base Frequency Boost which allows you to raise the power limit from 65W in 5W steps up to 90W. Another option is to enable Performance Mode in the BIOS, depending on the power supply that is driving the DeskMini H470W. Our 120W unit allowed the system to draw 105W at the wall socket so we can only speculate what might happen if you instead used the maximum supported 180W power supply.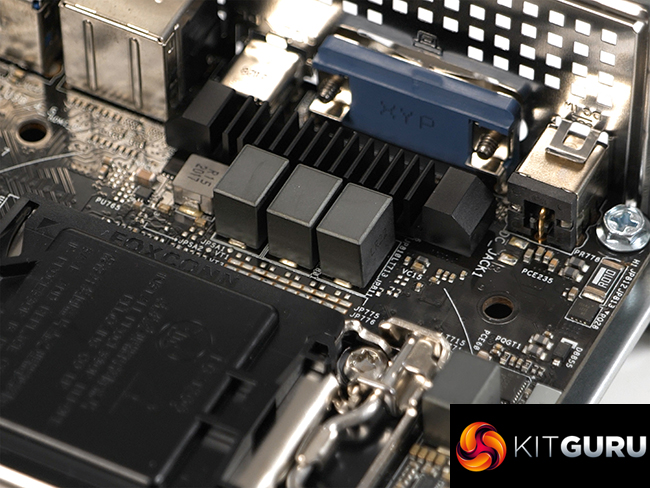 And finally we have the presumed support for Intel 11th Gen Rocket Lake. The rear M.2 slot on the motherboard is not supported with the current 10th Gen CPUs so we assume it will burst into life when Intel delivers 11th Gen in March. The snag here is that we expect the new Cypress Cove cores in Rocket Lake will demand more power than the current Skylake technology, which sounds like the exact opposite of what we would hope to see.
When you take these points together you end up in a very peculiar place. On the face of it the ASRock DeskMini H470W should be aimed squarely at businesses who want to buy cheap PCs from System Integrators that will install hardware that will treat the power delivery system kindly. Balanced against that we have a BIOS that appears to be aimed at the enthusiast market who might dabble with overclocking, potentially with a Core i9 CPU. Quite who might buy the accessory RGB lighting strip is a question that we are unable to answer.
You can buy the ASRock H470M-STX from Newegg for £220 HERE.
Pros:
STX form factor takes up very little space on your desk.
The hardware is cheap.
Decent selection of I/O ports on the front and rear.
Cons:
The motherboard VRMs are barely up to the job.
Options for CPU cooling are very limited.
The BIOS looks complicated and confused.
KitGuru says: ASRock DeskMini H470W requires an extensive overhaul, starting with the power delivery system.
Be sure to check out our sponsors store EKWB here