Asus has just revealed two of its own Steam Machines at Computex, the new systems will release under the company's 'Republic of Gamers' brand. One of the upcoming Steam OS powered PC's will be a tiny, console like system while the other has more in common with a regular desktop.
The first model, the GR8, is the smaller of the two, occupying just two and a half litres of space. It will feature an Intel Core i7 processor and an Nvidia GTX 750 Ti graphics card.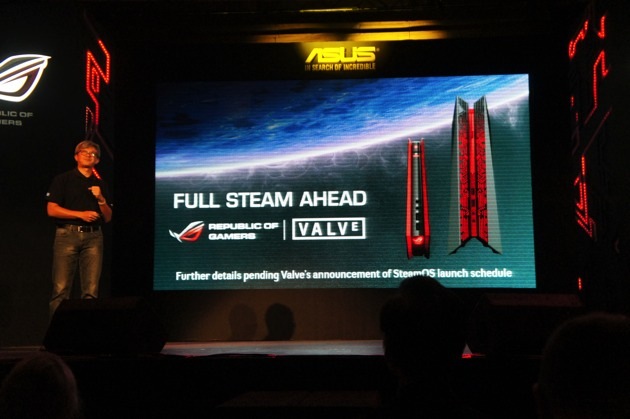 Source: Engadget
The Second and more powerful desktop machine is called the G20 and will also feature an Intel Core i7, however, the graphics will be upgraded from an Nvidia GTX 750 Ti to a GTX 780.
The case offers no exhaust ports, apparently Asus has instead created a hidden heat tunnel that will manage all of the system's cooling and heat output. The PC will idle at just 25dB but it will likely be a lot louder under heavy gaming load.
Both PC's will launch next year alongside the Steam controller, which was recently delayed. Unfortunately, by the time these Steam Machines actually come out, some of them might be outdated spec wise, which is a shame.
No word on pricing just yet but with an i7 and Nvidia graphics card included, both Steam Machines will probably end up being quite expensive.
Discuss on our Facebook page, HERE.
KitGuru Says: All of the Steam Machines have been delayed until next year when Valve finishes up on its controller, so its hard to get excited about a PC that will end up being quite old by the time it comes out. However, it's still nice to see more systems coming in console form factors. Do you guys like the look of the Asus ROG steam machines?