The Steam Machine initiative is all about making PC gaming more accessible on smaller screens, smaller devices and lesser hardware. The Steamboy project is combining all of these elements by creating a handheld Steam Machine, which would be perfect for in-home streaming.
Final specifications are being kept under wraps for now but according to Escapist Magazine, the handheld should include a quad core CPU, 4GB of RAM, 32GB of flash storage and a 5″ touchscreen display with a 16:9 aspect ratio. Obviously the lack of dedicated GPU and install space will rule out installing and running some games directly on the device but Steam's in-home streaming will ensure compatibility, save space and processing power.
[yframe url='http://www.youtube.com/watch?v=UM63RuEhgHU']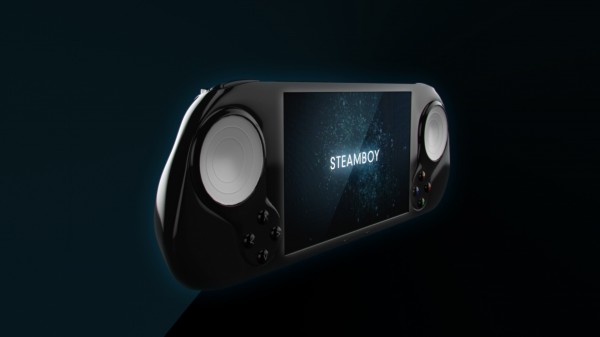 The Steamboy looks a bit like a stretched out version of Valve's controller, with the dual track pads and buttons all in-tact. The concept images look very slim too. You could compare this device to Nvidia's Shield handheld but aside from the fact that both devices can stream PC games, they don't really have a lot in common- particularly when design is concerned.
"SteamBoy is the first device that allows to play Steam games on the go," SteamBoy Machine's press release reads, "you will keep playing your favorite games at the bus, the office, the school or the doctor's waiting room."
"SteamBoy won't be as powerful as other announced Steam Machines in the same way the Nintendo 3DS or PS Vita performance is not comparable to Wii U or PlayStation 4," a Steamboy representative said. "However, it will be possible to play the majority of current games in Steam."
The team behind the project is hoping to release the Steamboy in 2015 with both WiFi and 3G connectivity. Hopefully we'll get more details soon as this is certainly one of the more exciting Steam Machine announcements.
Discuss on our Facebook page, HERE.
KitGuru Says: I'm looking forward to seeing how this one turns out. While I don't see this allowing me to play The Witcher 3 during my daily commute, I do see it being a great streaming device. However, the handheld market has dwindled a bit in recent years so it remains to be seen if this is something people will be interested in. What do you guys think of the Steamboy? Would you pick one up?