Genshin Impact has had an interesting first year. From being viewed as a simple Breath of the Wild clone pre-launch, to its massive and continued success following its release, the game has managed to break a few records along the way too – managing to achieve the highest first year gaming revenue of all time.
We previously reported that Genshin Impact had made over $2 billion USD in less than a year and on mobile alone. We now have updated figures officially confirming that the game has made $2.1 Billion USD on mobile within its first year on the market.
While an impressive figure, the game is in fact estimated to have made between 2.5 and 3.7 Billion USD when accounting for revenue from both PlayStation and PC. If these estimates prove to be true, then Genshin Impact will have dethroned Fortnite as the biggest game ever in terms of its first year revenue.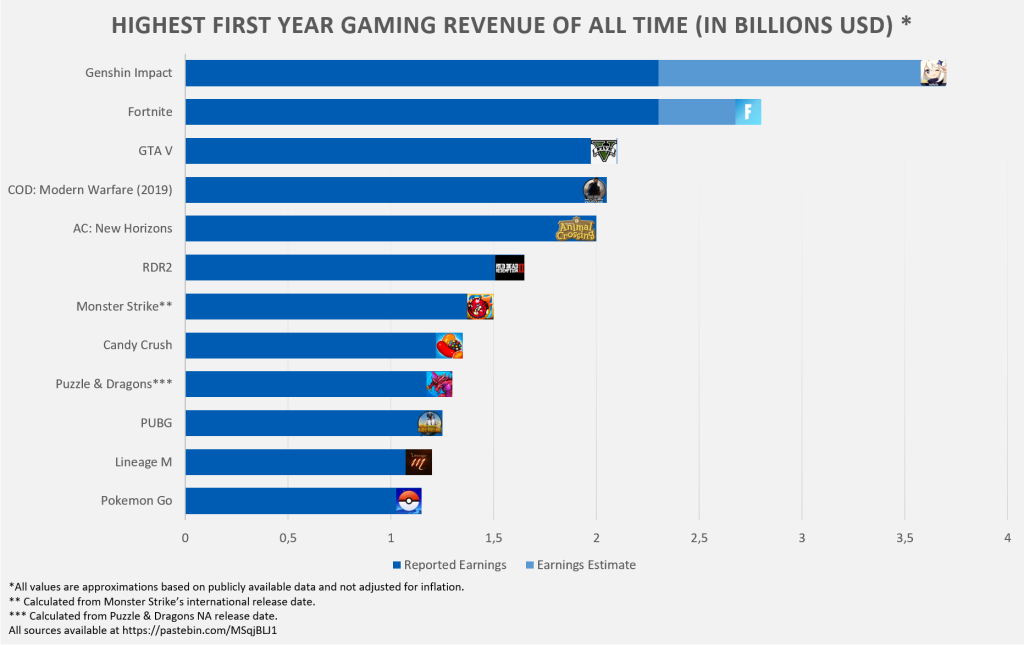 As mentioned, first place was previously held by Fortnite, with GTA V taking the second spot and 2019's Call of Duty Modern Warfare rounding out the top three. For further comparison's sake, Pokemon GO and PUBG both made just over $1 Billion in their first year on the market.
This is all mighty impressive, especially considering the fact that pre-launch discourse was relatively quiet and developer MiHoYo had little presence outside of China. Of course, it is worth noting that Genshin Impact's place at the top spot is currently an estimate. Still, with official figures alone the game has managed a healthy second place – meaning that with even the most conservative of estimates, the game has almost definity taken the top spot.
KitGuru says: what do you think of Genshin Impact? Have you played it? Have you put any money into the game? Let us know down below.