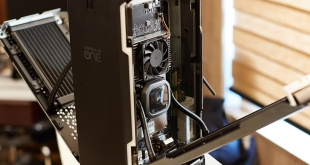 We know, many KitGuru readers build their own gaming systems. It is the best way to get a new rig exactly the way you want it. You can hand select every part yourself, get the best possible price by scouring etailers and auction sites and then you can tailor the appearance to your own personal preference. But what if you want something specific that you can't buy in a store? A system with a very small footprint, but crammed with the fastest hardware on the market?
There is no doubt the Corsair One is targeting a very niche audience, but when the latest models were announced this year i was so interested in the system I asked Corsair if I could get a look at the systems on long term loan. To play with them for months and get a handle on all the strengths and weaknesses. This is a KitGuru review today, but it is a different style for us. I paired the systems up with an Alienware AW3418DW 34 inch curved Ultrawide monitor, running at 3440×1440 @ 120hz. How does this system shape up as a daily, flagship, high refresh gaming system?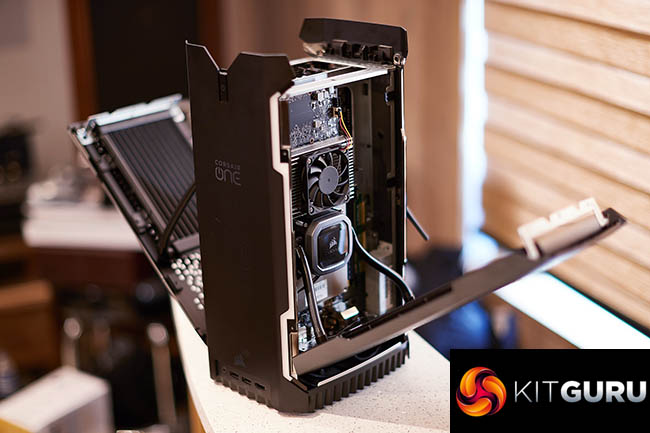 No doubt about it, these are expensive systems. The Corsair i140 (HERE) is priced at £2,849.99 in the UK and it includes an Intel Core i7 9700k, Nvidia RTX 2080, a 480 GB M.2 boot drive, and a 2TB HDD, with 32GB of DDR4 memory.For £550 extra you can get the Corsair i160 (HERE), which gets you an Intel Core i9 9900k and an Nvidia RTX 2080 ti upgrade. Both processor and graphics card are liquid cooled. There is however no doubt £3,399.99 will make a significant dent in your bank balance.
You can see these systems on the Corsair website over HERE.
Both systems are installed inside a beautiful 2mm bead blasted aluminum shell, its a minimalist fully RGB capable form factor designed to sit on the desk beside you on full view. When I was using these systems over the last couple of months, I was able to tuck them in behind the gargantuan Alienware 120hz gaming panel – which gave me so much room on my desk. That is one of the benefits of the Corsair One.
Before we continue it is worth pointing out that Corsair do currently sell an even higher specification i180 ONE (HERE) which includes a 12 core (24 thread) 9920X Intel processor and a larger 960GB M.2 NVMe SSD. It is priced at a staggering £4,749.99.
Lets take a closer look inside.
Be sure to check out our sponsors store EKWB here