Windows 10 is out now, bringing with it many welcomed features, unfortunately, not everything has been changed for the better. Solitaire has been a classic time waster, which has come bundled with Windows since the early days of the operating system. Typically it has been basic and free but now, it comes with adverts and a premium subscription.
Microsoft is monetizing Solitaire in a similar fashion to many mobile games, with adverts appearing on the app in Windows 10. You can make the ads go away but it will cost you, the subscription costs $1.50 a month or $10 per year. The subscription version of the game also offers extra in-game currency for beating daily challenges.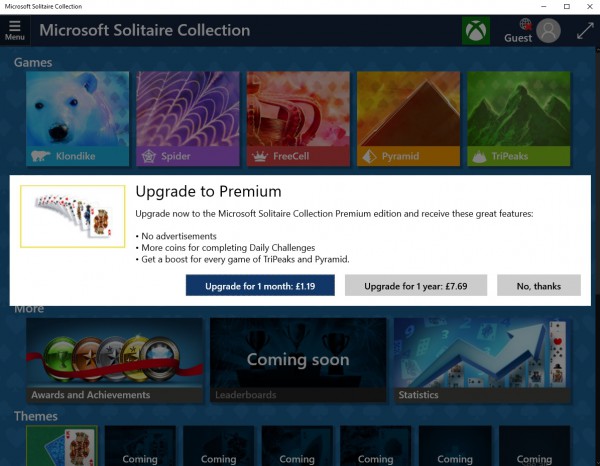 The in-game coins earned can't be used to pay off your subscription though, they are purely for unlocks. This isn't a totally unexpected move though, in the Windows 8.1 store Microsoft does sell the Solitaire Premium Edition with similar features and monetization methods, though this was a separate app entirely, rather than the primary option.
The ads that come in to play aren't all that small either, they take over the full Solitaire window and can run for as long as 30 seconds. Right not is isn't known exactly how long they are designed to pop up though.
Discuss on our Facebook page, HERE.
KitGuru Says: This is the way apps have been heading for years now on mobile devices so I'm not surprised Microsoft is trying its luck here. I was never much of a Solitaire player myself but I may be in the minority. What do you guys think of Microsoft trying to monetize Solitaire with ads and subscription fees?