Online communications have seen a great upswing in the amount of users these past few months. Zoom, Webex and many other services have reported a sharp increase since the start of the COVID-19 outbreak. Now Microsoft Teams has also announced that it has achieved a 1000% increase in March.
Microsoft released a trend report April 9 where it reported that Microsoft Teams is enjoying the benefits of people migrating to online communication tools for remote work and learning. The report – produced by Jared Spataro, Corporate Vice President for Microsoft 365 – brings out a few main points that are worth considering.
The report starts out by discussing a survey carried out by Microsoft a couple of years back. The survey asked "14,000 people in seven countries to name the form of communication that makes them happiest". The answers in the survey said that no matter which age group was asked "in-person meetings ranked number one over email, chat, or texting". It's an interesting observation that may motivate some people to re-evaluate their preferred choice of communication.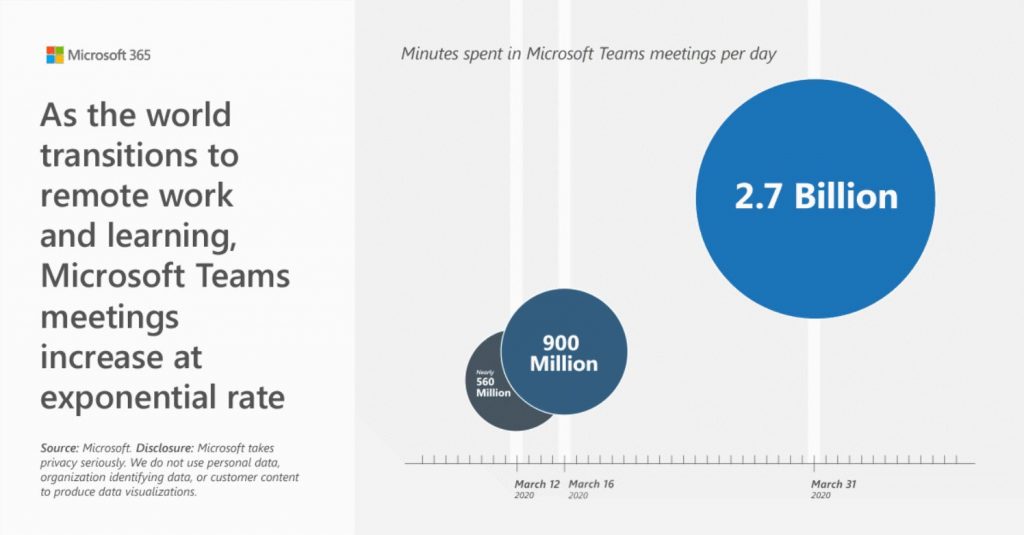 Image credit: Microsoft
The trend report goes on to say that 'Microsoft Teams' has seen a new "daily record of 2.7 billion meeting minutes in one day". The software company announces that its tool 'Microsoft Teams' is being used for education purposes in 175 countries and that a 1000% increase in usage has been seen based of total "total weekly video calls in Teams from March 2–March 31".
Discuss on our Facebook page HERE.
KitGuru says: It seems like all forms of online communications are on the rise. With so many options out there it can sometimes be difficult to make a choice. What are your thoughts on Microsoft Teams?