Windows 10 has been out for almost five years and is currently being used in over 1 billion devices. Each month usually sees more people updating their operating system and switching to the latest available version. However, new data from AdDuplex suggests that trend may have reversed, with more consumers using older versions of Windows 10.
AdDuplex compares different versions of Windows 10 and how prevalent they are among PC users. The company has reported that Windows latest update – the November 2019 update – has grown steadily over the past few months. As a reference, the previous report showed the November 2019 update having a 22.6% share among Windows 10 users, with this month's report showing that it has grown to a 28.2% share.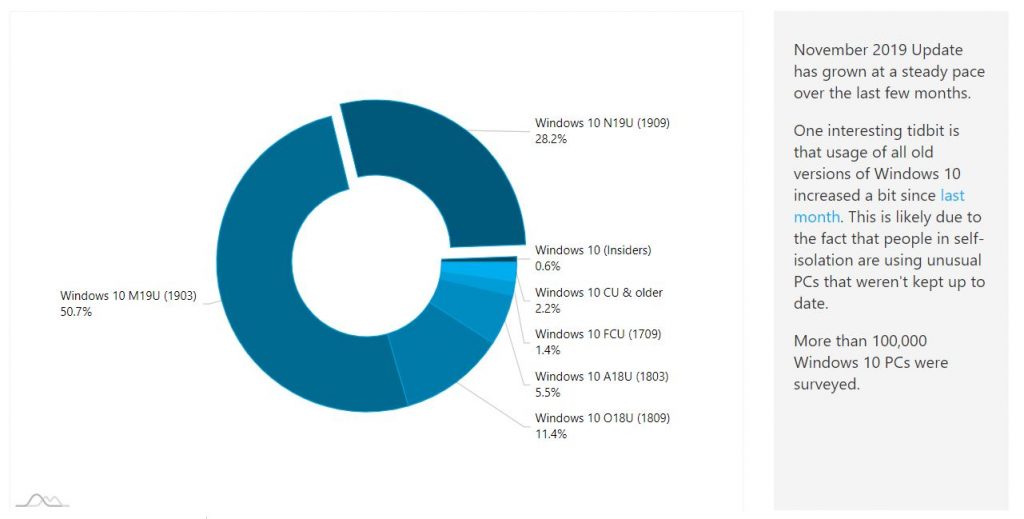 Image credit: AdDuplex
But something odd has been detected in this month's report, as old versions of Windows 10 have seen a slight increase in usage since last month. AdDuplex explains that it may come as a result of people being home in self-isolation. These people – with newly found time on their hands – are speculated to have started using old PCs that haven't been kept up to date.
The company explains that the data was "collected over the day of March 25th, 2020 (UTC time) unless otherwise stated" and was collected from more than 100,000 computers.
Discuss on our Facebook page HERE.
KitGuru: Have you also started using devices with older versions of Windows 10?  If so, what motivated you to start using the previously neglected devices again?