Mario Kart 8 was bound to be a hit. The series has never failed to net Nintendo a heap of praise from young and old fans alike, but with the release of its latest iteration, the pressure was really on to help turn around the fortunes of the Wii U. Fortunately for Nintendo, it seems like it's certainly taken a step in the right direction, with MK8 helping Wii U software sales increase almost five fold.
According to statistics from Gamasutra's JVM, estimations for the Wii U's software sales increased by 479 per cent year on year in June, with a total of 139,000 games sold in the UK. While this doesn't exactly top the Xbox One, which sold 325,000, or the PS4 which sold 460,000 (or in-fact, the PS3 or Xbox 360), it represents a massive uptake in Wii U software, something Nintendo desperately needed.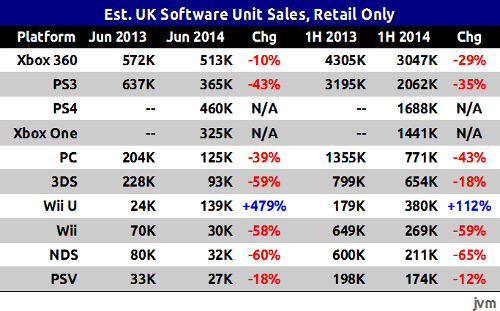 While there is likely to be a small drop off in July, as the main Mario Kart purchases have been made, it's still big news for Nintendo in in the UK, where it has struggled tremendously since its release. While Japan and the US have kept up a steady, if low, stream of hardware and software Wii U sales, the UK has been horribly stagnant. Not so any more it seems.
The question is, can Nintendo maintain it? Super Smash Bros is the next, big first party title from the company and that's not due until near the end of the year. There are other big releases coming of course, but that's the one with the potential to deliver a Mario Kart 8 level of attention and praise on Nintendo's ill-fated system.
Discuss on our Facebook page, HERE.
KitGuru Says: What do you guys think of the Wii U's future? Will it be able to maintain its reasonable sales going forward?