Even among most of our die-hard PC-centric fan base, there's still debates about which is better, the PS4 or the Xbox One, which should you get? Why not both? Etc. Etc. Still, why not both? Especially when you can bundle them both into a single chassis like reader Ed Zarick did.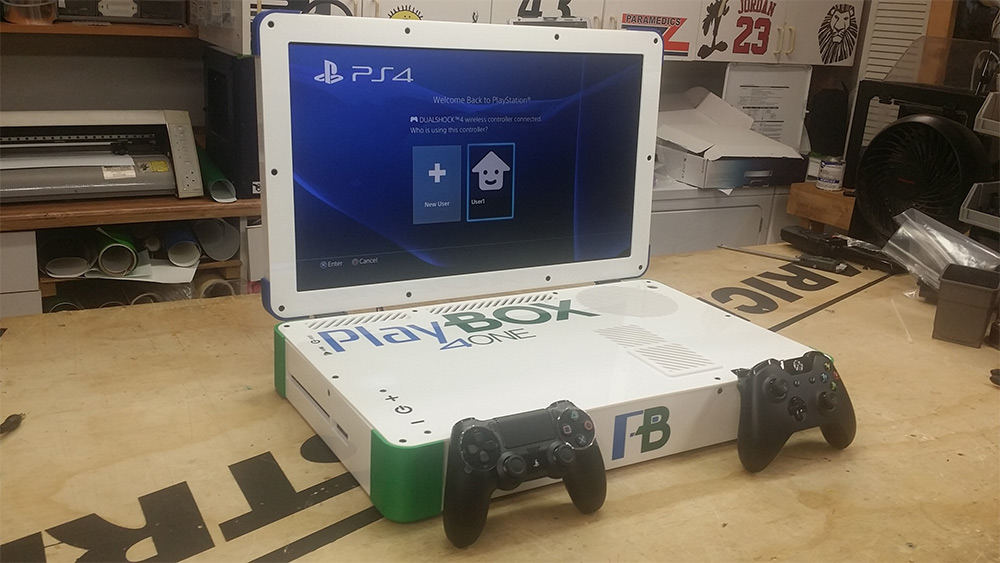 The project is called the PLAYBOX and it features both a Sony PlayStation 4 and an Xbox One in the same, homemade, 22″ notebook. It only turned out a little bit bigger than his previous creation, the XBOOK DUO, which crammed an Xbox One and Xbox 360 into a similar casing. It features the same screen from Vizio and has only one drawback: the PS4's power button is a bit fussy and doesn't always work – fortunately, the controller can turn it on perfectly every time.
[yframe url='http://www.youtube.com/watch?v=fdKmiKKNv44′]
If you're imagining that that's a lot of hardware to fit inside a notebook chassis – even one as chunky as this one – it is. One of the interior shots shows just how much: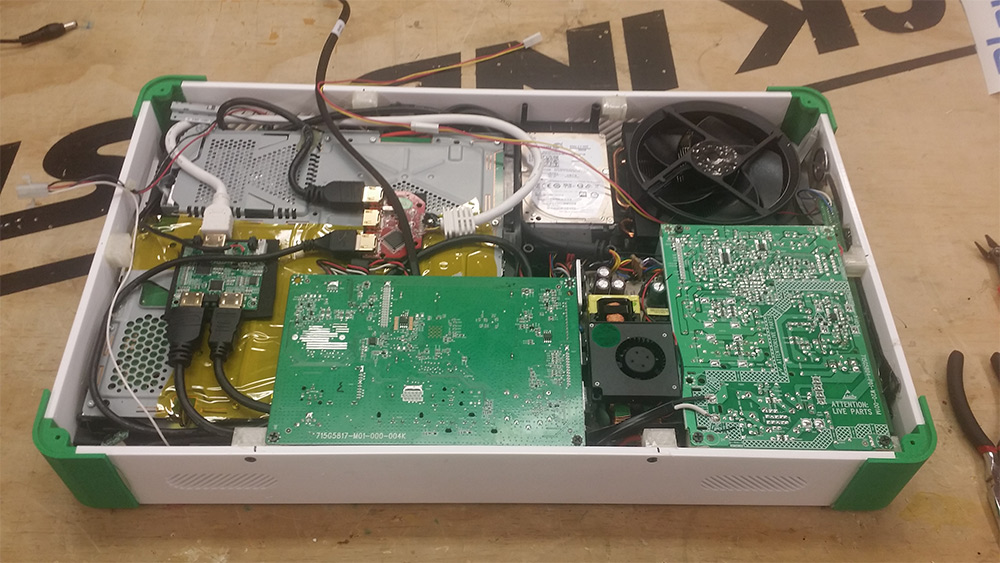 Surprisingly, Zarick claims that there are no overheating issues, despite the cramped interior, thanks to clever vent placement and use of fans in key areas. Switching between systems does require a full shut down, but it's not like you would be able to play both at the same time anyway – that would be a lot of heat.
Unfortunately for those of you reaching for your wallets, this unit isn't for sale as was a "prototype," for a specific customer of Mr Zarick's. He may look to build one in the future, but bear in mind that it would be considerably more expensive than buying both consoles individually.
If you want to see more of Zarick's work, you can check it out on EdsJunk.net.
Discuss on our Facebook page, HERE.
KitGuru Says: Quite a project, though with something that hefty I think I'd want a monster carry case to look after it. Preferably with a handle.