If you like the look of the new Xbox One S but don't think it's portable enough, there's one man who can solve that: Ed Zarick. Mere days after the official release of the console, he's managed to fit one into his own custom built laptop chassis, creating the world's first XBOOK One S.
Zarick is someone we've checked in with a few times over the years. He was the creator of the XBOOK One and PlayBook 4 and even made a BB-8 themed Xbook One earlier this year. This time around though he's gone for clean lines and a pure white paint job, but with all the power and reduced footprint of the Xbox One S.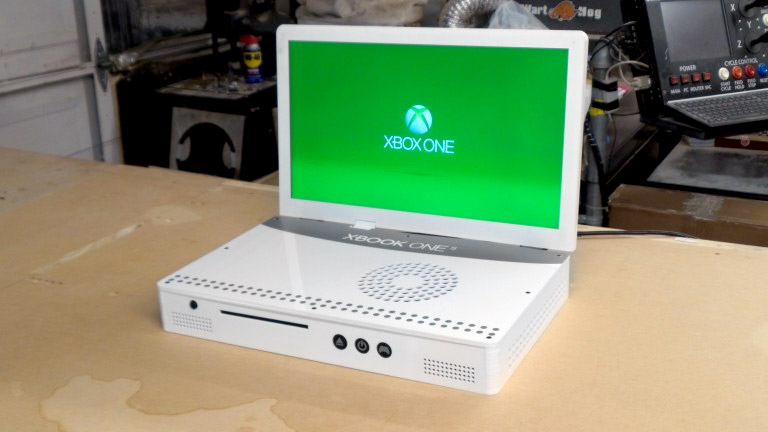 Using the thinnest material possible, while maintaining structural integrity with added supports, Zarick made the One S as slim as he could, whilst still adding that built-in display functionality. He does say in the description that you couldn't describe it as "rugged," but it's certainly sturdy.
[yframe url='http://www.youtube.com/watch?v=QyKKaS2bGF8′]
That smaller size has lead to the XBOOK One S sporting a 19″ screen, rather than the 22″ one seen in previous XBOOKs. That means it's extra portable, but only outputs at 720p. Still, at that screen size it's hard to tell the difference. If you want the 4K experience that the new system supports, you'll need to use your big screen TV at home.
If you want to buy one of these yourself, it'll set you back $1,500 (£1,158) for the base 500GB model, or an added $50 for the 1TB version. You can also send Zarick your own Xbox One S for him to put in the system and it will cost you just $1,200 in comparison (£926).
Of course you could also win one. Zarick is celebrating the creation of the first Xbox One S by giving it away to one lucky fan. All you have to do is retweet him to be in with a chance, so get to it! Competition ends 14th August.
Discuss on our Facebook page, HERE.
KitGuru Says: These are pretty neat little systems he puts together. Would you guys be interested in us reviewing one if he gave us the chance?