Fallout 76 might be a divisive entry in the post-apocalyptic series, but that hasn't stopped on player from diving into the West Virginian wasteland for more than 900 hours. Despite the feat, the two accounts used were flagged for supposedly using an exploit to collect over "100,000 rare items within 30 days" of playtime, resulting in a ban for the player.
Glorf12 has taken to Reddit in order to share their story, claiming that Bethesda has banned their two accounts for accumulating an obscene amount of ammo within an impossible time frame. In the email shared, it is suggested that over 140,960 Ultracite Ammo was collected on one character and over 225,000 on another in just 30 days of play time.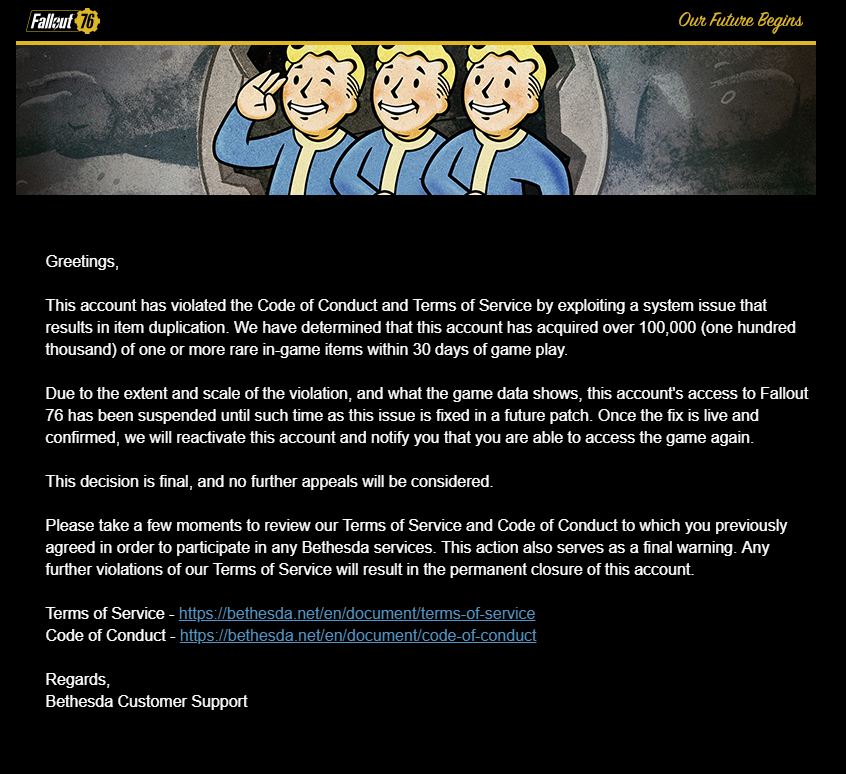 The player admits that they usually carry "a stupid amount of ammo" thanks to the Bandolier Perk reducing the weight of ammo further, but it is "still nothing close to the numbers they state. I cannot be more adamant that I have never once owned an item in excess of 100,000. I don't think I've once held more than 36,000 ammo at one time." Unfortunately, it is impossible for Glorf12 to verify without access to their account.
Alternatively, while Glorf12 believes that other players might have reported him for trading items between a level 450+ character and a level 2 character, Bethesda's system could have counted each time the ammunition was swapped between accounts. This would explain the ridiculous amount detected within a short time frame.
Regardless of reason or legitimacy in Glorf12's claims, account access was supposed to be reinstated following a patch that prevented the supposed exploit used, yet the accounts remain locked after the fix has gone live. Fortunately, Bethesda community manager Ladydevann has begun investigating the case.
KitGuru Says: One thing I have noticed is that players attempting to work out the legitimacy of the claims seem to have total faith in Bethesda's system. Considering the publisher has definitively made the mistake of not granting access that was promised once the fix had dropped, I'd say that investigations are warranted.