Amazon-owned Twitch saw a boost to its application downloads at the end of last month, as Chinese viewers flocked to the platform to watch this year's Asian Games. China has taken notice of this sudden rise in prominence, blocking Twitch in most of its provinces as of September 20th.
Despite China topping the placements since 1982, state-run broadcaster CCTV chose not to air the Indonesian-based Asian Games this year, prompting many residents to resort to using Twitch. According to Sensor Tower, via The Verge, this saw a staggering rise in numbers up to 23 times higher during the week beginning August 27th when compared with its preceding weeks, propelling the application to number 3 on China's top rated free apps.
Like Facebook and Twitter before it, Twitch has now ended up on China's permanent ban list as the country attempts to censor popular Western media platforms before controversies occur. Initially, this didn't seem like a sweeping ban as one would expect, leaving some provinces able to continue accessing the site. This has seemingly been rectified as of September 20th, however if there are any outliers, then access to Twitch isn't expected to last much longer.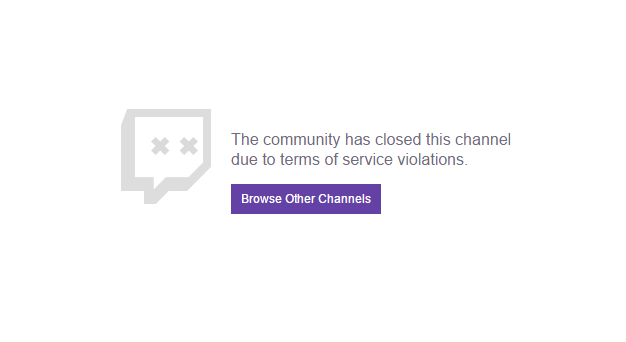 Image: Twitch's ban message against individual channels
Chinese authorities have yet to publicly address the imposed changes, however this continues the nation's heavy online censorship across the board. Google and Steam are reportedly working on individual platforms to circumvent woes of being banned from the world's most lucrative market, with the former said to be working on a catered search engine and the latter partnering with video game developer Perfect World to get a Chinese version of Steam up and running.
China did well during Asian Games 2018, broadcasting its win of two gold medals across news-based media. Ironically, state-run station CCTV is likely to return to airing the event in 2022, as it will be taking place in Hangzhou, China on September 10th.
KitGuru Says: While this isn't surprising, it must be disappointing for residents of the country, particularly as many of them were simply trying to be patriotic in supporting their national team. At the very least, hopefully China takes it upon itself to air such international events in the future, if it doesn't want to rely on Western platforms.