When publishing rights to We Happy Few were picked up by Gearbox and development shifted towards a more linear story-driven experience, it was revealed that plans for post-launch content were being laid out. Now, developer Compulsion Games has revealed the first of what's to come, with three lots of DLC included within its season pass.
First up is 'Roger & James in: They Came From Below!', in which "Precocious Roger and Impetuous James set off in search of adventure and love, only to uncover bizarre technology and a terrifying new threat. All is not as it seems. Or is it exactly as it seems?"
Next up is the similarly cryptic 'Lightbearer' that follows "heartthrob, artist, and personal trainwreck, Nick Lightbearer." Supposedly "Wellington Wells' most celebrated rock star" it seems that our titular Lightbearer will be subjected to torture by the surprisingly charismatic but just as enigmatic villain, Uncle Jack.
'We All Fall Down' closes out the season pass, which looks to delve into the flaws this Joy-full society has created. "Much like any well-worn happy mask, all societies develop cracks in their veneer," reads the description. "But that doesn't mean you should go digging up dirt from the past. Right? *pops a Joy pill* Right!"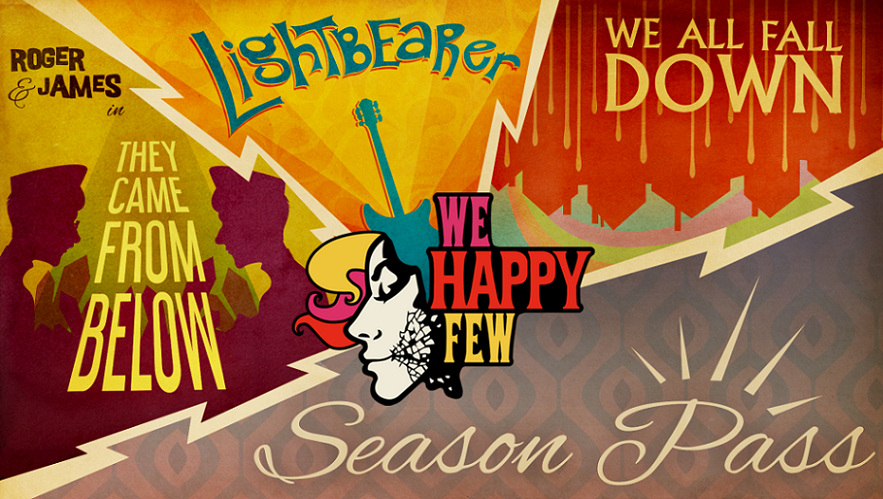 Despite being housed within the season pass, all three DLCs will be available for individual purchase and. As previously stated, Kickstarter Backers who pledged CA$ 8 for the 'Beer Tier' will be receiving a digital copy of the game for no extra cost, while all pledged above CA$ 25 will get the season pass for free. Those who purchased CA$ 350 to 'The Boxer Tier' will also be rewarded with the Collector's box on top of their pledge.
Compulsion Games also plans to launch a variety of free updates after release, including a Sandbox Mode that allows players to customise the world to their liking, such as changing the size, surrounding danger and availability of resources. "This mode will bring back the systemic, sandbox world showcased in the early days of We Happy Few."
PC, PlayStation 4 and Xbox One players will be able to hop into We Happy Few on August 10th, 2018.
KitGuru Says: I'm quite the fan of the changes made to We Happy Few's approach and can't wait to dive into the new content when it arrives. Will you be picking up Compulsion Games' upcoming dystopian survival title?