Last week, MSI accidentally let some news out surrounding Intel's 9th Gen processor launch. At the time, we learned that Z370 motherboards would be getting a BIOS update to support some of Intel's upcoming 9th Gen SKUs. Now Gigabyte has followed the same path, confirming its own Z370 9th Gen update plans.
While we are used to needing to pick up new motherboards when a new generation Intel processor launches, those on Z370 should be able to just drop a new 9th Gen processor in after a BIOS update. However, this will apparently only work with Intel's six-core options. That means the rumoured 8-core 9th Gen processor and up will require a Z390 motherboard. MSI is planning to support 15 Z370 motherboards in total, but Gigabyte's list is much more comprehensive, covering Z370, H370, B360 and H310 chipsets.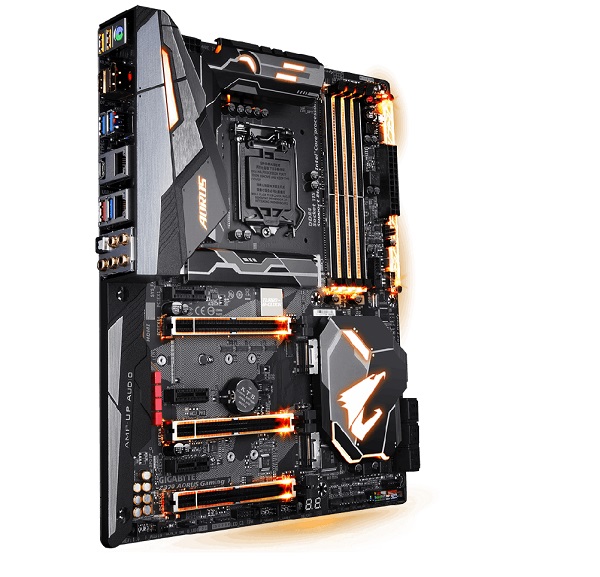 On the Z370 side, Gigabyte will be updating the following motherboards for Intel 9th Gen:
Z370 AORUS ULTRA GAMING WIFI-OP
Z370 AORUS Gaming 3
Z370 AORUS Ultra Gaming
Z370M D3H
Z370 AORUS GAMING 7-OP
Z370 AORUS Gaming 5
Z370 HD3
Z370M DS3H
Z370 AORUS ULTRA GAMING 2.0
Z370 AORUS Gaming 7
Z370 HD3-OP
Z370N WIFI
Z370 AORUS ULTRA GAMING 2.0-OP
Z370 AORUS GAMING WIFI
Z370 HD3P
Z370P D3
Z370 AORUS ULTRA GAMING WIFI
Z370 AORUS Gaming K3
Z370 UD3H
Z370XP SLI
H370 Chipset 9th Gen support:
H370 AORUS GAMING 3 WIFI
H370 AORUS GAMING 3
H370M D3H GSM
H370M DS3H
H370M D3H
H370 HD3
H370N WIFI
B360 Chipset 9th Gen support:
B360 AORUS GAMING 3 WIFI
B360 AORUS GAMING 3
B360M AORUS GAMING 3
B360 HD3
B360M GAMING HD
B360 HD3P
B360M D2V
B360M D3H
B360N AORUS GAMING WIFI
B360M D3P
B360M D3V
B360M DS3H
B360M H
B360M HD3
B360N WIFI
H310 Chipset 9th Gen support:
H310M S2H (rev. 1.0)
H310M DS2 2.0
H310 D3
H310M A
H310M S2H (rev. 1.1)
H310M DS2
H310M DS2V
H310M H
H310M H 2.0
H310M HD2
H310M S2
H310M S2V
Intel is expected to announce its 9th Gen processors later this month. We've already had a leak for the Core i9-9900K, but roadmaps suggest we'll also see a Core i5-9600K and a Core i7-9700K. There is one caveat worth mentioning when it comes to Z370 support. The language from MSI noted that "next-gen six-core CPU support" would be available on Z370, indicating that higher core count processors (like the 9900K) may be reserved for Z390.
KitGuru Says: I'm currently running a Z370 board and a Core i7-8700K, so I'm not planning on upgrading soon. Still, it is nice to know that motherboard makers are planning to support at least some 9th Gen CPUs on Z370. Are any of you planning a new PC build? Are you holding out for new processors from Intel?