League of Legends is set to come to screens in the form of a reality television series in which players will be pitted against one another to win a professional contract of a lifetime. Set in what seems like the same style as The Ultimate Fighter, it's possible we might see many more instances of player misconduct when the show hits YouTube.
The show, called The Next Gamer, offers the chance for 10 people to enter a house in Sydney where they will battle it out for $10,000 and a six-month contract with Australia's biggest and best eSports teams. After whittling down 40 contestants to 10, the remaining players will be put through daily challenges to "test mental fortitude, physical fitness, and teamwork."
Anyone wanting to apply will need to supply details of their preferred roles, previous competitive experience, current LoL rank, social media profiles and a video application stating why they are suited for the competition. The application states that "Successful shortlisted applicants must be available for an online qualifier from August 11th – 15th," and that "Finalists must be available August 19 – September 6 to join us at The Next Gamer."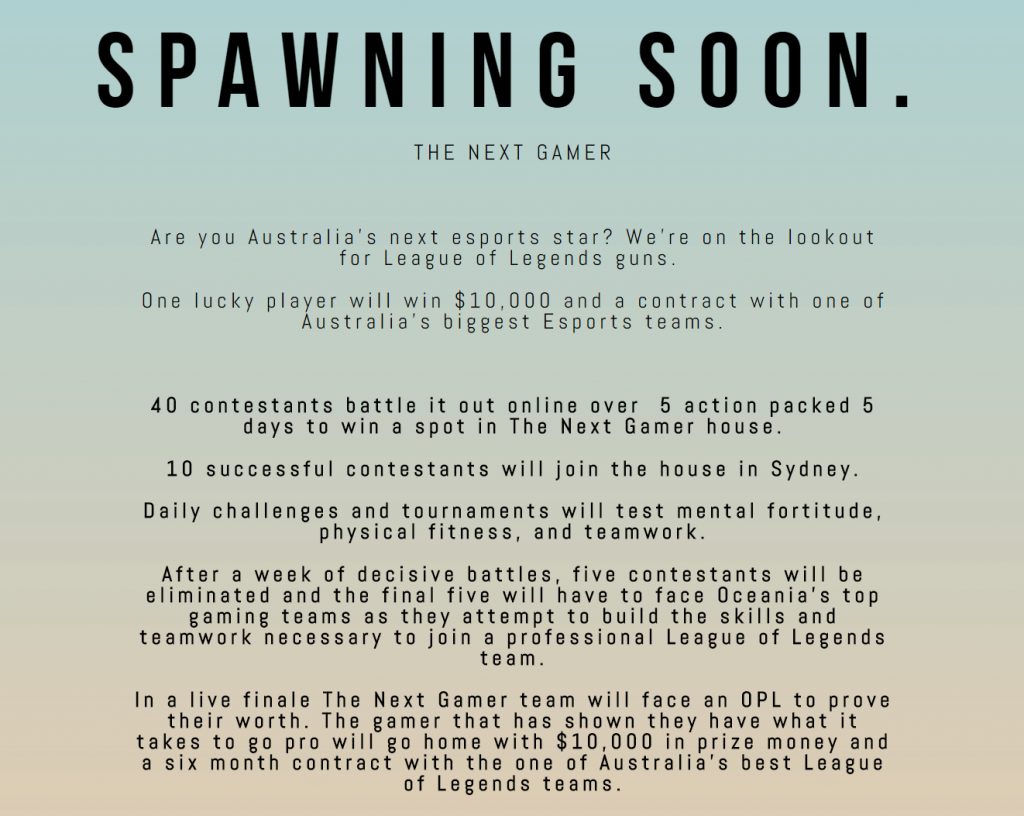 In the final stage of the show, five of The Next Gamer contestants will form a five-person team to go head-to-head with professional team Dire Wolves, winners of the 2017 OPL Split 1 and following playoffs.
The Next Gamer isn't the only eSports show in the works, however, as Sprout Entertainment has teamed up with Aurora to create a 32-episode television series (and a feature-length film) centred around the Southeast Asian professional scene.
The first entry into this show is Game To Fame: Road To World Cup, a 4-part min-series in which players compete for professional gaming contracts in FIFA Online. Game To Fame will also include other popular eSports games, featuring League of Legends, DOTA 2 and Counter-Strike: Global Offensive.
KitGuru Says: I have only dabbled in watching eSports before now, with a particular focus on the up-and-coming Rainbow Six: Siege, but I understand how popular these other titles are. Are you interested in watching The Next Gamer or Game To Fame? How involved in eSports are you currently?