When it was revealed that loot boxes would be bombarding the beaches of Normandy in Call of Duty: WWII, developer Sledgehammer Games was quickly to quell pay-to-win fears. Since then, dataminers have delved a little deeper, uncovering unreleased loot crates that are bound to cause controversy if implemented.
Stating that loot crate content would be purely cosmetic put a lot of worries to rest, with players happily buying loot boxes with in-game currency in between matches. Yesterday, however, Activision added the option to purchase COD Points, a new premium currency that utilises real world money.
In other news, dataminers have uncovered a bunch of weapons that have yet to make their way into the game, alongside unreleased Supply Drops, Call of Duty: WWII's version of loot crates. So far, Rare Supply Drops are the only ones available in the launched title, but if the new information available on Reddit turns out to be true, then this could potentially be joined by an Epic Supply Drop, Legendary Supply Drop and, unfortunately, a Weapon Supply Drop.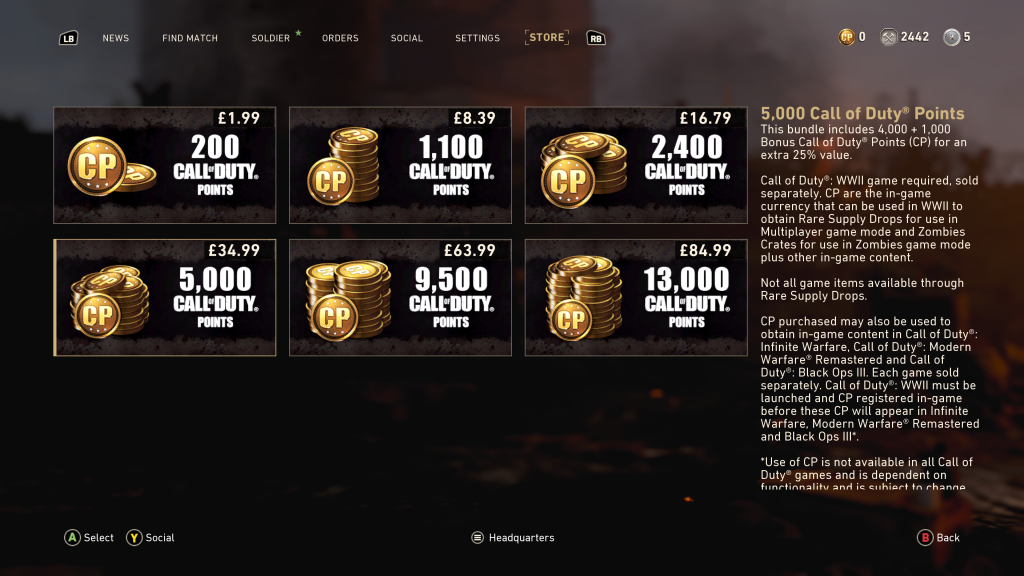 Image courtesy of Eurogamer.
The fragmented system of so many different options of progression, particularly that of weapons tied to a randomised system is, in itself, worrisome for the Call of Duty community, but Sledgehammer Games will have a task on its hands of ridding the stigma of pay-to-win if these are available to be bought with COD Points, which of course they will, otherwise the system would make little sense.
KitGuru Says: Of course, the backlash of anything pay-to-win will be hinged on just how much of a grind it is to get the items that you want. While determined by the cost of each loot box with in-game currency, this is usually worsened by the poor chances of receiving higher-tier items in such a random nature. What do you think about weapons and high-tier cards being locked behind loot boxes? Moreover, what do you think about the option to buy into them with real world money?