Last week, PlayerUnknown's Battlegrounds introduced paid cosmetics with its big, albeit delayed July update. Although a controversial decision, it seems that some items are selling like hotcakes and others are making a fortune.
It's well known that Counter-Strike: Global Offensive massively benefitted from its virtual market of weapon skins, so it's no wonder that other games are gunning to imitate the success. And while PUBG is following Rainbow Six Siege in implementing a crate system, its paid cosmetics stand out like a sore thumb is because the game is still in early access.
Despite its controversy, many players have welcomed the items with open arms, with some items ranging into the hundreds on the Steam Market. PlayerUnknown's items have been worth a lot since launch, with his Bandana sitting at £313.69 and Trenchcoat at £217.62. In a surprising turn of events, a pleated purple mini-skirt has managed to reach over £320, beating PlayerUnknown's Bandana in asking price. It's worth noting that these are actually the lowest price available for each item, as shocking as that may seem.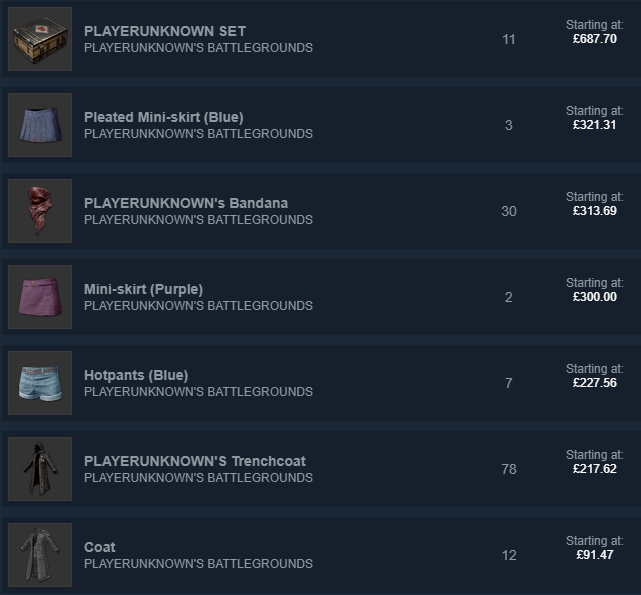 The highest-priced community item of all is the PlayerUnknown Set currently starting at £687.70 and reaching beyond £700 on some of the higher asking prices. This set is currently the only way to get all of PlayerUnknown's costume, that was originally obtainable via a limited number of deluxe edition pre-orders. The set contains PlayerUnknown's Bandana, Trenchcoat, Shirt, Pants and Boots, of which only the first two items are currently available on the market.
There is no other reason for these items to be as valuable as they are aside from the fact that the community apparently wants them. Of course, the price is also determined by availability and rarity, and there's no telling if any of those items will sell for such a high asking price. So far, the only activity on them has been bids placed drastically lower than the asking price and cancellation of listings, aside from the curious purchase of a single PlayerUnknown Set that sold for a whopping £675.79.
Unfortunately, don't go thinking that you can become rich overnight as generic items such as the Combat Pants lie at the other end of the spectrum, setting the lowest price of £0.04.
KitGuru Says: With the rate at which the game is passing milestones, it doesn't surprise me that it's able to mimic CS:GO's success. Have you bought any PUBG items from the market? Or, better yet, have you had any good sales?