Fallout fans will be treated to a collection of legacy Fallout games this October, as a leaked listing on Amazon Germany has been confirmed by Bethesda. With every single-player Fallout game ever made featuring in the collection.
An Amazon Germany listing went live earlier this week detailing the previously unannounced Fallout Legacy Collection. Bethesda has since confirmed the new re-release, which contains Fallout, Fallout 2, Fallout Tactics, Fallout 3, Fallout: New Vegas and Fallout 4, in addition to all associated DLC- that is a lot of Fallout to digest in one go.
According to the retail listing, the Fallout Legacy Collection will cost €39.99, meaning each game would technically cost around €6 each. Bethesda has confirmed that the collection is coming out on the 25th of October, which also happens to be the same day that The Outer Worlds comes out, which is the latest RPG from Obsidian, the studio behind Fallout New Vegas.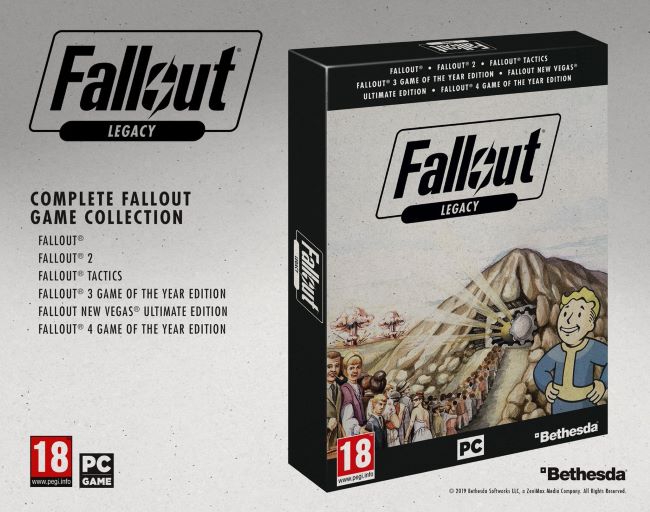 The 25th October release date has been confirmed for the UK and Germany, although a date for other regions has yet to be detailed, in fact, there has been no confirmation it will be released in other regions just yet.
Five games listed in the Legacy collection were available in the Fallout Anthology, which came out just before Fallout 4. So, the addition of Fallout 4; Game of the Year Edition and all the major DLC for the respective games have been included for the Legacy Collection. The only games missing from the collection are Fallout 76, which is still quite new, and Fallout Shelter, which is free to play anyway.
KitGuru Says: Most die-hard Fallout fans will probably have all the games in this collection already. However, for newcomers to Fallout, this is a great chance to experience the older games in the series without having to fork out too much cash.