Godus is the game that time and seemingly 22 Cans, Peter Molyneux's developer, forgot. Despite being re-released earlier this year as Godus Wars, the god sim that was supposed to reinvent the genre is still being developed (apparently) and according to staff, it's still got a long way to go.
Godus was the game announced following Molyneux's clicking game, Curiosity. The winner who clicked the last block was supposed to become the God of Gods in Godus, dictating how it worked in multiplayer and even receiving a share of the game's revenue. It was billed as a life changing prize for the winner, Bryan Henderson.
The only people that appear to have remembered his existence though are people outside of 22 Cans, as at the time of writing he still hasn't received his prize and Godus seems to be no closer to leaving early access.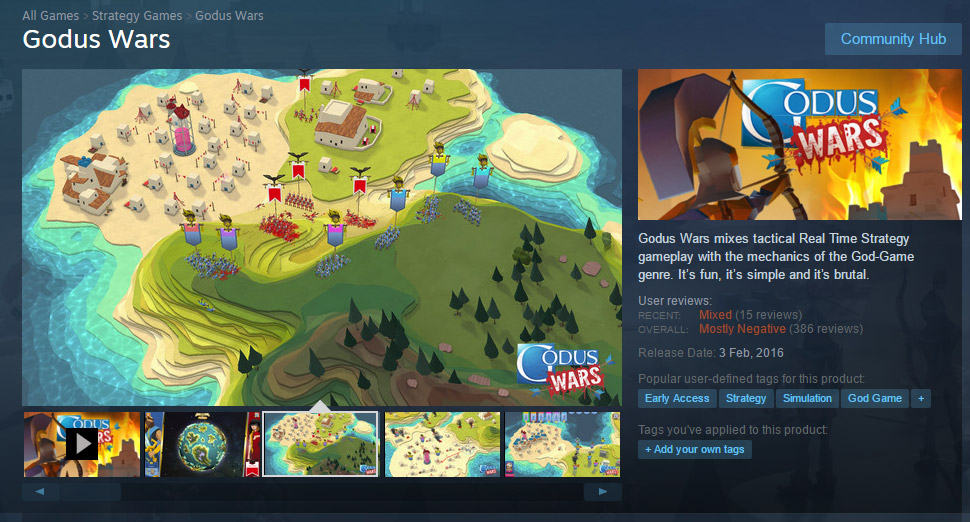 When Eurogamer pressed 22 Cans on the status of the game, the developer insisted that it was still ongoing and denied rumours that the whole company had moved over to developing its next-game, The Trial. Staff did however admit that sometimes Godus developers did work on it too, but it was a case of 'shifting' resources around, rather than officially developing one or the other.
Whatever's going on behind the scenes though, Godus has a bit of a dead stink to it. The lead designer didn't renew his contract when it ran out earlier this year, the last time there was an update of any kind was in March and 22 Cans hasn't communicated with fans since mid March. That's simply not good enough for an Early Access developer in 2016.
You could perhaps forgive the company if it was working so hard it didn't have time to chat and was almost ready to release the game, but no. When asked if Godus was approaching readiness to leave Early Access, a developer at 22 Cans said that it wasn't even close. "There's lots of areas to explore to finish," they said. There also wasn't any "fixed time-frame" for when it would release either.
Discuss on our Facebook page, HERE.
KitGuru Says: As much as Peter Molyneux seems like a nice person, it feels hard to imagine ever trusting a project he was involved with with my money. Curiosity was a clicking mess, Godus has become a catastrophe and he simply moves on to something else. It's sad. He had a hand in creating some of my favourite games ever.