If you thought that Ubisoft had forgotten about the last generation of consoles in its bid to release a new Assassin's Creed game every year, then you're sorely mistaken, as instead of making its upcoming French Revolution simulator AC: Unity compatible with both generations, it's instead just developed a standalone game, only available on last-gen systems: Assassin's Creed: Rogue.
Developed by Ubisoft Sofia, the company that made Assassin's Creed Liberation, Assassin's Creed: Rogue is quite similar in that it swerves off of the main path of stories told as part of the AC universe. In this one, players take on the role of Shay Patrick Cormack, a master Assassin who is betrayed by the brotherhood and ultimately becomes one of the Templars in a bid to take down his brothers.
In AC: Rogue, you essentially play as the bad guy with a good excuse.
[yframe url='http://www.youtube.com/watch?v=IoOsv0FBpaU']
The game takes some of the more popular elements from the Assassin's Creed series, like the ship to ship combat, and enhances it by mixing up the locations. You'll be able to fight through icy seas in the North Atlantic, as well as battle up close in the shallow waters of the American river system. Defend against boarding actions and take the fight to the Assassin's with new weapons at your disposal, becoming the "ultimate assassin killer."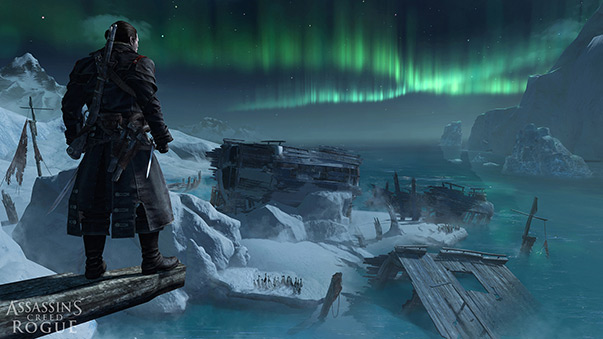 Three unique environments are available to explore, but be wary, as even with your enhanced vision you'll need to keep your wits about you to avoid the assassins that will constantly dog you and attempt to slip a knife between your shoulder blades when you aren't looking.
Of course all of this wouldn't be a true Ubisoft develoopment if there wasn't a bunch of pre-order rewards though would it? Put your money down for AC: Rogue today and you'll get the Siege of Fort de Sable mission, as well as the "Ultimate Hunter Pack," giving you extra in-game equipment.
Assassin's Creed: Rogue is set for release on 11th November on Xbox 360 and PS3.
KitGuru Says: It's nice to see Ubisoft giving some love to the older console generation, as it's still got a much bigger install base than the new one. It's also managed to avoid the whole problem CoD had, with split-generational games feeling sluggish on the older systems and ugly on the newer ones. It even makes it possible for a high-definition release on new-gen systems down the road. Smart stuff.