It might have been almost a year since Rockstar released GTA V with its multiplayer mayhem simulator, GTA Online, but even though it's had plenty of DLC to keep things fresh, the oft-promised cooperative heists still have yet to make it into the game. Assassin's Creed Unity on the other hand, will ship with cooperative heist missions right out of the box and today we have our first footage of one in action, along with some developer commentary.
[yframe url='http://www.youtube.com/watch?v=7l-M0vdiDBs']
Your assassin character in this AC game might be good at murdering people, but all that sneaking around has made him a damn good thief too, which is why the heist missions will give you the chance to put your hands on some valuable artifacts, in this case, treasure stolen by the Templars from the Notre Dame cathedral.
However as different as the mission parameters might be, the outcome is somewhat typical of an AC title. You sneak around, you kill unsuspecting guards and you make your way out after completing your objective, all while trying not to be seen. On top of that, the only real cooperative element appears to be letting your fellow Assassin do some of the murdering for you. There is a suggestion of using your partner's vantage point to aide in your vision of an area, but it's not explained very well.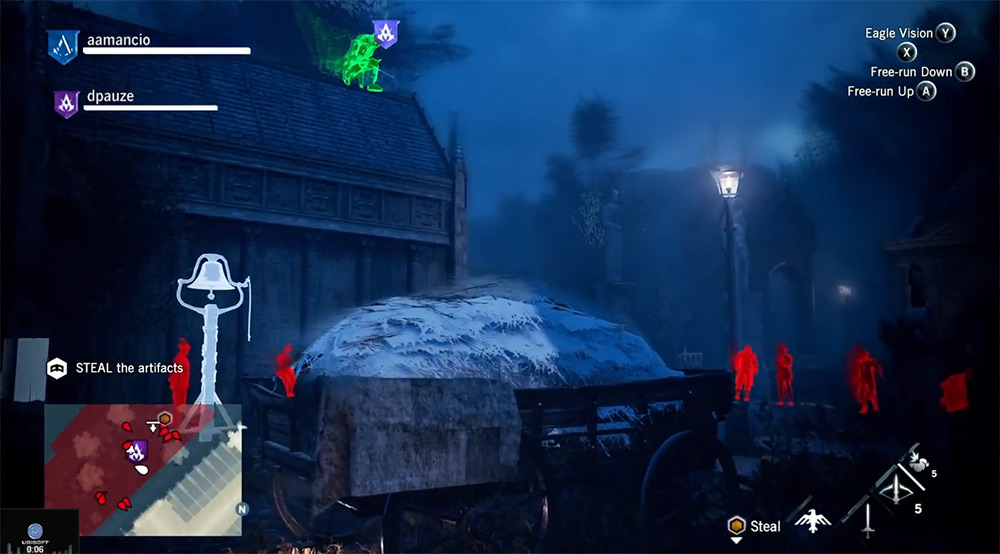 'Quick, use your bat… eagle vision'
The only caveat there is that guards are somewhat randomised, so when you repeat the missions – and you'll be encouraged to, to level up your character – you might have to change your tactics slightly, but in this video, all we see is a smoke grenade being thrown and a couple of sync kills.
Discuss on our Facebook page, HERE.
KitGuru Says: That "warning you're entering/leaving a restricted area" feels like it's murdering the immersion of the game far better than any Assassin.