The developers of virtual reality's first drunken bar room brawl simulator, Drunkn Bar Fight, have said the game will be "available when we're sober," according to the game's Early Access Steam page. It also depicts some of the in-game action, which involves punches, kicks, drinking and the classic throwing of everything in sight.
Although tactile VR combat has existed since the early days of the HTC Vive thanks to its motion controllers, this is the first time we've really seen booze thrown into the equation. In Drunkn, getting drunk will be as much a part of the gameplay as punching your fellow drinkers. In early trailers (see Steam page) we see a packed room where you can chug back beers, throw bar stools into windows and crack those nearby in the face with bottles galore.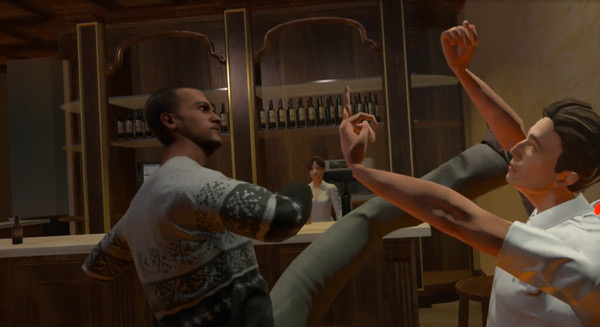 One important feature is already implemented: flipping the bird
Getting drunk will have its side effects of course. You'll need to balance building your confidence and potential through liquid courage, whilst also not imbibing so much that you won't be able to fight back. Regardless though, judging by the trailer's art style, bizarre physics and the similarly intoxicated state of the NPCs, it looks like it will be quite a fun game.
Unfortunately for now there's no real way of knowing when the game will release or what a fully featured Drunkn Bar Fight might look like, but we do know it's in the works, the devs are making it and they aren't trying to cash in early by making the game purchasable just yet.
Whenever it does come out you'll need an HTC Vive to play it and at least two by two metres of space.
Discuss on our Facebook page, HERE.
KitGuru Says: If you guys are looking for a more serious fighting experience in VR, check out Thrill of the Fight, but prepare to be exhausted. It's surprising how difficult it is to throw punches that don't hit anything.