Microsoft has made another large investment in clean energy by signing two new agreements to purchase additional wind power. These deals will see it acquire a further 237 megawatts of green energy, nearly doubling its total to 500 megawatts. Microsoft considers this another step on the road to making its cloud servers and datacentres run on entirely clean energy.
However Microsoft doesn't plan to stop there. Although it still has some ways to go until its own energy uses are completely countered by clean energy production, it plans to bust through that ceiling and keep on going. Brad Smith, president of Microsoft, said that he wants to see Microsoft offer clean energy to communities surrounding Microsoft enterprises in the future too.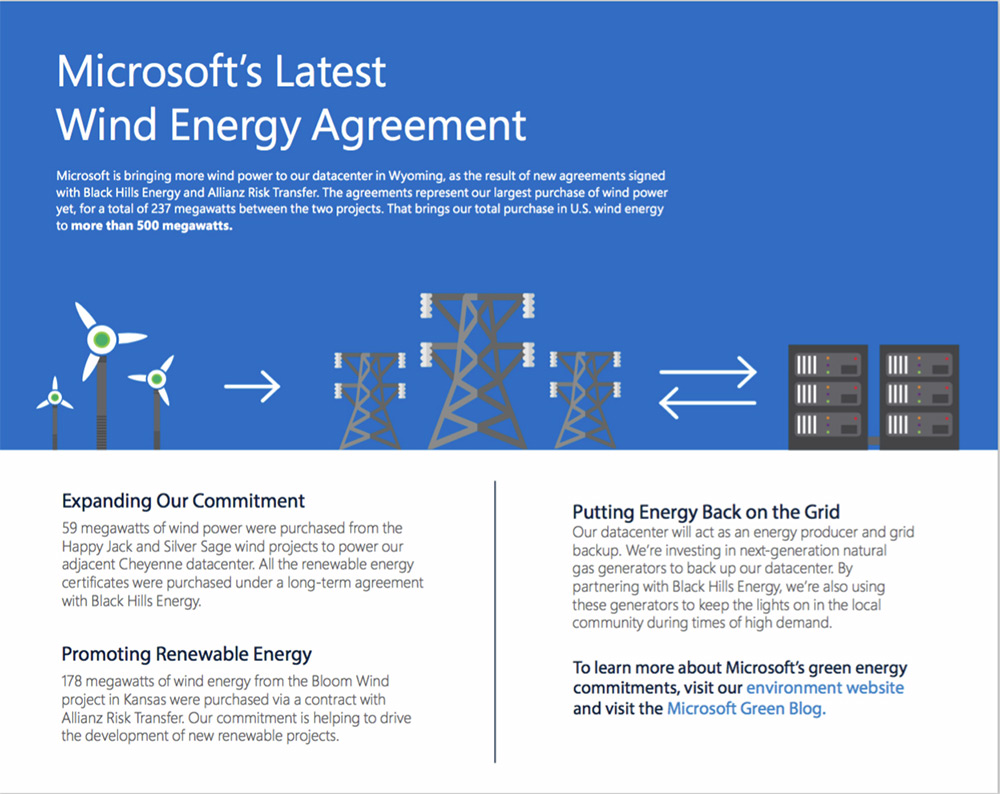 Microsoft latest wind initiative takes advantage of the Allianz Risk Transfer (ART) program, which through a proxy revenue swap – that gives a fixed payment for wind power, rather than basing it on power output or fluctuating energy prices – makes the whole system much more attractive. Although Microsoft is one of the first to take advantage of this scheme, it is expected to massively accelerate global wind power adoption.
The second deal Microsoft struck to leverage new wind power for its datacentres is with Black Hills Energy. Together they made another unique partnership, in which Black Hills will be able to leverage Microsoft's own back up generators if required during peak times, thereby foregoing the need to build a new power plant to cover the local community in the case of power spikes.
Those generators make use of natural gas, rather than diesel, which is a far cleaner energy solution than the alternatives.
Discuss on our Facebook page, HERE.
KitGuru Says: It's good to see companies like Microsoft investing heavily in cleaner energy solutions. While consumers can all play their part in helping to turn around climate change, we really need industry to come along for the ride, as it has a bigger impact on our environment than all of us put together.