Call of Duty isn't a particularly serious game, which is something surprising considering the praise heaped on it by the series' fans for its realistic graphics and effects every time one is released. However it's in the character packs for CoD: Ghosts that the silliness really shines through. Sitting between the Inferno and Bling personalisation options, is the "Blunt Force" character pack, which lets you proudly display your loyalty to the plant, with a pair of leaf themed outfits.
"Arm yourself with the Blunt Force Character Pack and enemies will experience chronic defeat at your hands. The pack comes complete with a leafy uniform and 2 different headgear options," reads the description of the two dollar purchase.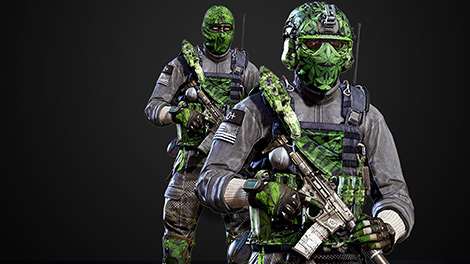 It's ironic to think that the characters you're playing have probably been tasked with destroying such plants in developing nations
Considering Snoop Dogg recently lent his voice to the game as an official announcer (DLC of course) it's somewhat surprising that he wasn't roped in to advertise this one.
The "Blunt Force," pack is one of three customisation options for your characters. The Bling Pack offers a gold and diamond uniform, which while presumably expensive in the game's universe, costs just as much as the other ones at $2. The third of the trio is the Inferno Pack, which kits you out with a balaclava, full face mask and body armour all painted up with red and orange flames.
KitGutu Says: I was tempted to push this post back to publish at 4:20, but I think Activision used enough puns and references for all of us.
[Thanks
PCGamesn
]