Microsoft is having an Xbox 360 sale today, with digital games priced down significantly. Almost everything up for grabs is at least two thirds off, with everything from AAA critically lauded titles like Dishonored and Portal 2, to Xbox Live Arcade games like Bastion and Guardians of Middle Earth.
Announced by Major Nelson on his blog site, the sale is a big one and it's been running since yesterday, but will finish by the end of today, so if you want to grab yourself a deal, you'll need to seize the day. Games up for grabs include: the aforementioned titles, Amored Core: Verdict Day, Dante's Inferno, RUSE, Halo: Reach, Capcom Arcade Cabinets and Runner2: Future Legend of Rhythm Alien.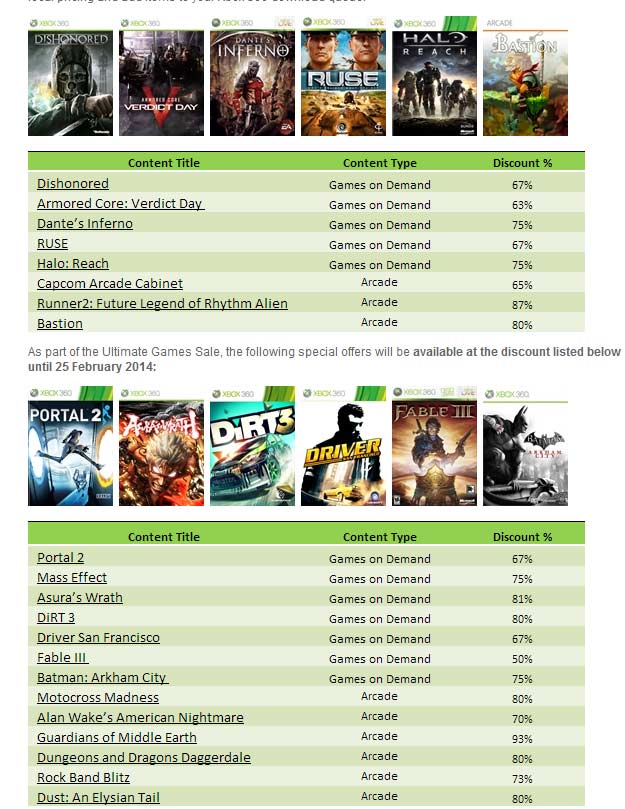 When you head through to Major Nelson's blog, click each game's name to be sent to its discount purchase page
However, there's also an extended sale going on, that will run right through to the 25th February. They include: Mass Effect, Asura's Wrath, DIRT 3, Driver San Francisco, Fable III, Batman: Arkham City, Motocross Madness, Alan Wake's American Nightmare, Dungeons and Dragons Daggerdale, Rock Band Blitz and Dust: An Elysian Tale.
The Major also let on that there would be further sales announced over the next week, so we may well be in for more discounts in the coming few days. Keep your eyes peeled.
Kitguru Says: It's been a while since I powered up my 360, but there's a couple of games there I just might need to get.