One of the biggest concerns people have had with Turtle Rock's upcoming monster hunting epic, Evolve, is the same one they had with Titanfall: it forces you to play with other people. Fortunately it turns out, that's simply not true. Evolve won't go the same way as Respawn's game, and will in-fact let you play with AI teammmates or against an AI monster if you so choose.
While the idea of a multiplayer only game is all well and good in many ways, it can be a problem if servers are running a little light one evening, or if the launch isn't ideal, or even if you only have a couple of friends to play with and don't want to deal with strangers. This was something many have been worried about with Evolve, since Turtle Rock has really talked up the idea of the big boss monster being controlled by a human, making it a much more dangerous opponent.
However, in a recent interview with GameReactor, studio co-founder Phil Robb revealed that if you don't want to play with a full contingent of human players, you don't have to. It's perfectly possible to have an AI monster, or AI hunters, it's your choice.
[yframe url='http://www.youtube.com/watch?v=caFuc3RqWco']
When asked if there was a dedicated single player mode, Robb said that: "You can play the game anyway you want. If you're the kind of person that isn't comfortable with online, you can set it up where you can play against any number of bots. If the four of us wanted to play but we didn't have a monster, we could go up against an AI monster."
Essentially he said, Turtle Rock wanted to make sure that whatever your preference for games, whether you like to play against AI allone or cooperative with friends, or prefer to go all out against human opponents, it'll be your choice.
This will go a long way to assuaging the concerns of Evolve fans, as it means offline play is possible and likewise, practice games where you try out a new class will give you some breathing room before everyone's yelling because you didn't get your harpoon shot off right and now everyone's dead.
Robb also revealed in the talk that Evolve has "over a dozen maps planned," which is a decent number considering the other variables in play like multiple hunters per class and multiple monsters, though "planned," suggests that some at least will come as part of DLC. That said, we do know from previous Turtle Rock reveals, that it doesn't plan to put maps behind a paywall. Likewise while there will be DLC monsters which you have to pay to play as, Evolve will still let you play against those monsters even if you don't pay for it.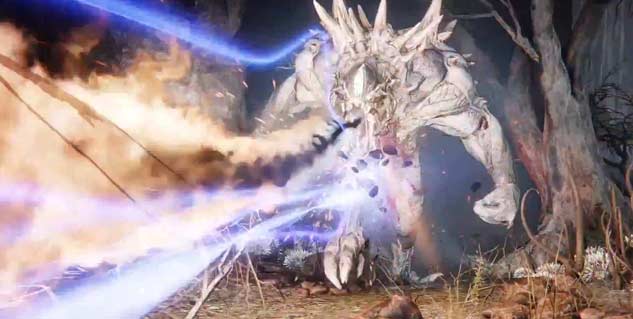 One mode or tweak to existing gameplay that Robb also talked about, was the fact that hunters could enter a game not knowing what monster they're going up against, therefore they often spend the first few minutes just figuring out what it is they're hunting as how they react to that threat will change dramatically depending on what it is.
Discuss on our Facebook page, HERE.
KitGuru Says: While I'm sure a human controlled monster is much, much harder to kill than an AI one, Turtle Rock has a history of making solid AI components in its games, so I'm pretty pleased to see this option there. It would be a real shame not to let people play without strangers if they want or to give people something to play if the servers are down. Hopefully this will help stop the game's player base falling off like Titanfall's has.