Despite the fact that Games Workshop still hasn't done what fans have been clamouring for for years – create a full digital version of its flagship tabletop franchises – it is pulling out all the stops this year, releasing new versions of Bloodbowl, Mordheim, Total War: Warhammer, Regicide and more. And now there's another game to add to that list: 1988 strategy racer board game, Dark Future.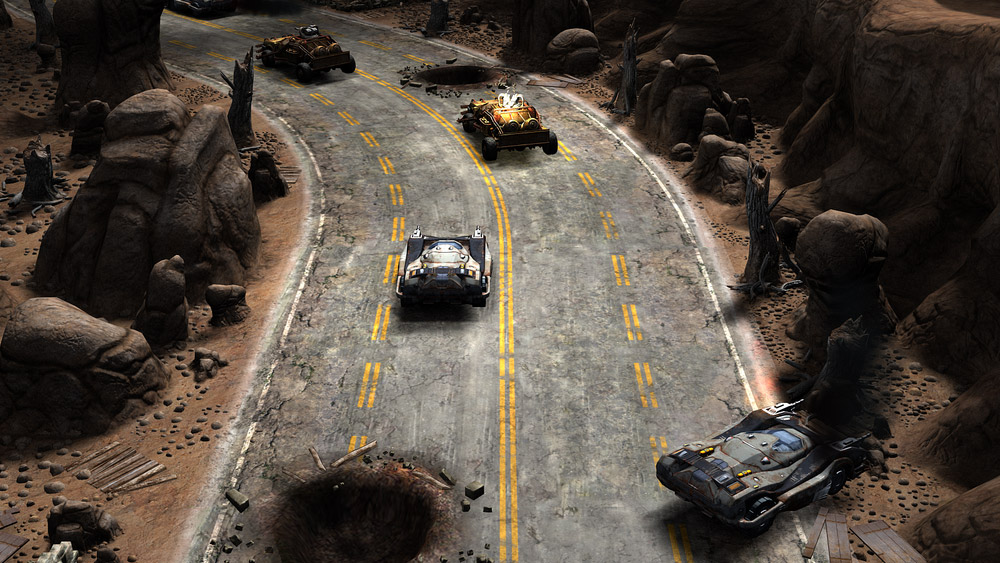 It's being put together by Auroch digital, which handled the desktop version of Plague Inc and previously released Chainsaw Warrior for PCs and tablets. Its new game will charge players with running a "Sanctioned Ops," agency in a post apocalyptic world reminiscent of Mad Max, with finite resources, desert back drops and big engined cars kitted out with weapons.
[yframe url='http://www.youtube.com/watch?v=zG5DegPZwCY']
Players will need to take out rival gangs and avoid those trying to take them down at the same time, while levelling up their team and augmenting them with bionics and upgrading their vehicles with chain guns, better armour and explosives.
Auroch also hints at an overarching story to the game, with some shadowy force building in the background. Presumably players will need to investigate as part of their missions on the dusty highways.
Dark Future: Blood Red states is being developed for PC, Mac, Linux and iOS and Android tablets.
Discuss on our Facebook page, HERE.
KitGuru Says: I know GW thinks selling a digital version of its core games would harm its model sales, but I don't see that happening. If anything, it would introduce new players to the game. It could even sell new units and armies via DLC. It would make a killing and players would lap it up.