If you feel like you have nailed down your legend deck in Blizzard's turn based collectible card game, Hearthstone, then you better start getting ready to head back to the drawing board, as the next expansion for the hit free to play title is going to add more than 100 cards. That should shake things up a bit.
Teased by Hearthstone production director, Jason Chayes, in a chat with Polygon, he said that the next expansion (which he described as the first, suggesting the single player dungeon Curse of Naxxramas, is seen as something different) will, "mix it up a bit," and "will have a lot more cards." Over 100 in fact.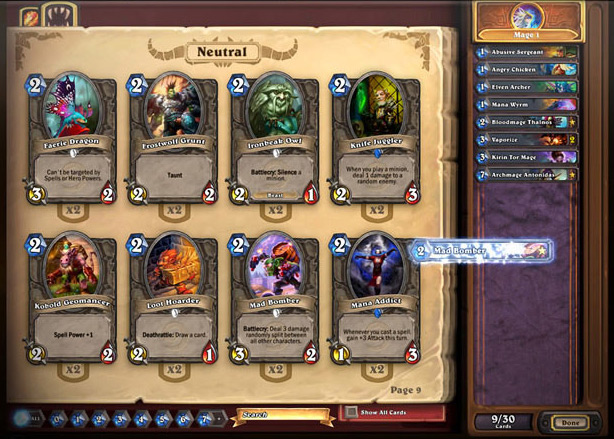 We're going to need more dust….
The cards will have a central theme, though Chayes wouldn't be drawn on what that will be. However he did talk about how Blizzard was spending a lot of time and effort to make the experience well "paced." In the context of Hearthstone expansions, the idea is to give new players more to do but not make them feel intimidated by a rush of new content. Similarly though, professional players and those well versed in the game's mechanics need to have something to shake up the meta-game now and again. New cards will certainly do that.
This might mean rolling out content in a similar style to how Blizzard handled the Curse of Naxxramas, with cards being gradually introduced, week by week. Ultimately Blizzard thinks it will employ multiple content rollouts per year, some single player adventures, some card content and potentially even new play modes, but that last option isn't something that Blizzard is investigating too much as of yet.
Expect the new cards to be at least teased at the upcoming Blizzcon Event taking place in early November.
Discuss on our Facebook page, HERE.
KitGuru Says: If you guys had control of what cards were added, which decks would you like to see bolstered the most?