Evolve's Big Alpha took place during the weekend just gone and while a few people weren't happy with the PS4 or matchmaking issues, many got to hunt and be hunted in turn with a number of different characters and a couple of unique looking monsters. There were however only three maps to play on, even though the final game is said to have 'more than' 12. Well we now know what the fourth one looks like and it's called "Orbital Drill."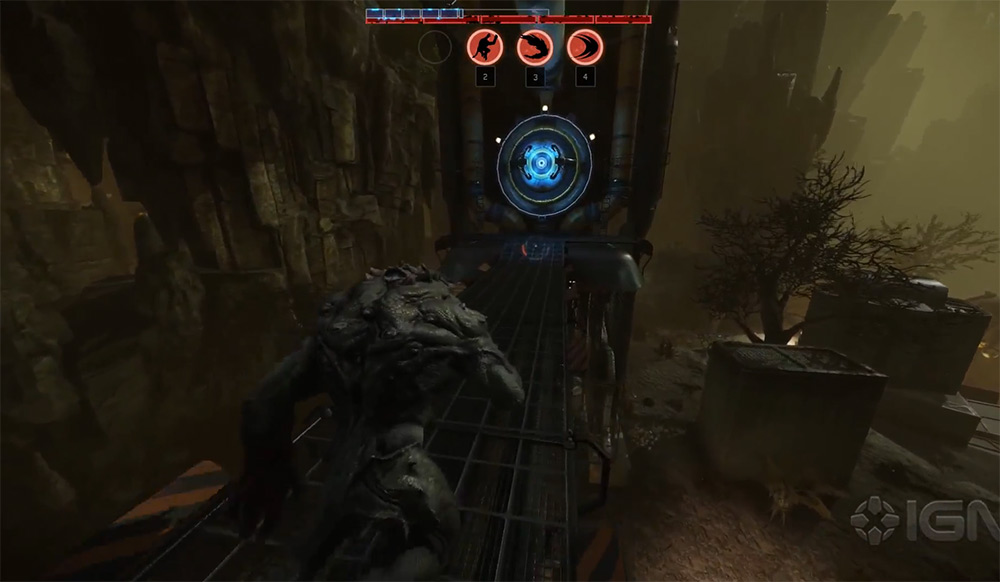 This map is a little more caustic than some of the others, because as well as all of the usual wildlife that's trying to take hunters and the monster down if the situation arises, there's a new acid biome, featuring pools of the stuff, which if anyone wanders into, they're going to know about it, with a steadily decreasing health bar.
[yframe url='http://www.youtube.com/watch?v=fHNI8VY7Pyg']
The 2k representative talking IGN through this map, points out that weather has more of an effect than just limiting visibility too. With heavy rain, monster tracks will begin to wash away, so hunters will need to stay hot on a monster's trail if they don't want to lose them when the rain starts coming down.
Also of interest, especially to those who ended up getting into stage 3 battles around the power core last weekend, is the generator that's located inside a building, in a pretty enclosed space. This makes it much harder for a monster to take down a team of hunters that have a lot of placeable weaponry. Though of course it also makes it harder for the hunters to dodge out of the way.
KitGuru Says: Quite a cool looking map. I'd like to see one with a bit more colour though. I know it all needs to be dark so the monster can sneak around, but one graphical downside to Evolve is that it is a little drab.