When rumours that Minecraft and Mojang were going to be sold to Microsoft turned out to be true, it was pretty surreal and not least because Notch had been very vocal about companies selling out after criticising Oculus VR for doing that very thing. Still it happened and just a few hours ago Microsoft finalised all of the paperwork, signing over billions of dollars to Notch and taking official control of one of gaming's most influential titles in years.
This was confirmed by Xbox Head Phil Spencer, who said in a tweet: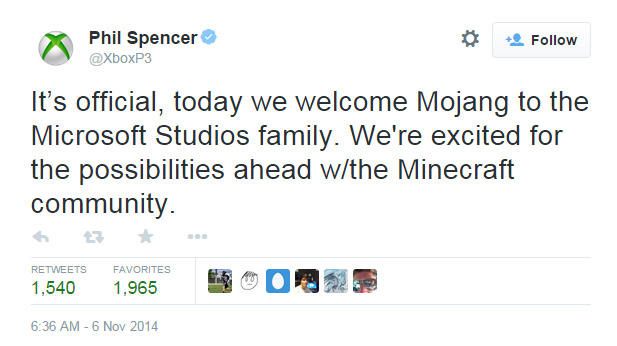 However, while this marks a big day for Microsoft, as it has a whole new community of gamers to cater to, a game to continue development on and a hole in its bank account to the tune of $2.5 billion that it needs to fill, it was an even bigger day for Markus "Notch" Persson, the man behind the game's phenomenal success. He tweeted out about his last day, saying that he left the office without a proper goodbye as everything "felt strange," and he wasn't really sure what to do.
"I don't even know what a fitting bye is," he said. "So I just left like it's a normal day, with normal things happening."
Notch had explained in a lengthy blog post before however, that he had felt distant from the process of developing at Mojang for some time. Apart from his abandoned 0x10c space sim, he hadn't officially worked on anything other than demos and programming challenges since Minecraft and found himself somewhat departed from the rest of Mojang's staff, despite being the company's founder and head.
Well no longer.
KitGuru Says: As hypocritical as Notch was for taking a payout after slamming Oculus for it, you have to give the man credit for not only popularising the Infiniminer concept, but also pioneering a pre-order model that has allowed many indies to make their dream games.