The rhythm guitar game wars are back guys! Remember? Way back in, well the '00s, when it was Rock Band versus Guitar Hero, Harmonix versus Nerversoft and DLC versus DLC, as both franchises tried to see just how much they could get us to pay for songs we already owned in many other formats. Well they're back! Or will be later this month when Guitar Hero Live joins the newly released Rock Band 4, and to tease that, Activision has released a new trailer for the former, featuring James Franco and Lenny Kravitz.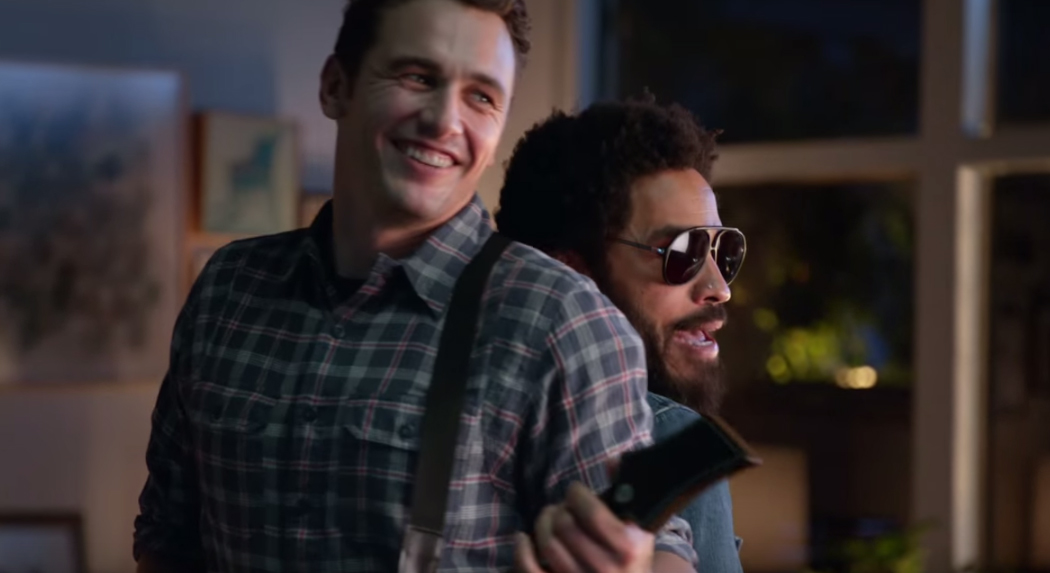 Apparently, in the world of the future where both rhythm games are available, these two distinguished gentlemen choose to spend their time playing Guitar Hero Live. Not only that, but instead of rocking out together with a pair of guitars, they prefer to do so one at a time so they can critique each other.
[yframe url='https://www.youtube.com/watch?v=ev66m8Obosw']
Besides their antics, the trailer also shows off one of the features that Activision and developer Freestyle Games have been so proud of: the live crowds. Made from real footage, they should react fluidly to how you perform, rather than just changing animations as would happen on previous Guitar Hero games with CG audiences. Time will tell whether that will become repetitive quickly, as a lot of pre-recorded content can in-games, and how smooth the transitions between "you suck," and "you're awesome," will be, but it's an interesting concept.
For now, all that we know is that it can make grown men jump around on their sofa, which is a pretty good sign that it's fun – or at least it would be if this wasn't a paid spot.
Although it's big rival, Rock Band 4 launches today, 6th October, Guitar Hero Live is set to launch on 20th October in the US and Australia and 23rd here in Europe.
Discuss on our Facebook page, HERE.
KitGuru Says: What do you guys think of the new rhythm guitar games? Has the genre had its day, or are we just looking at a new resurgence of plastic guitar strumming action?