The developer of No Man's Sky, Hello Games, is doing its best to get a handle on the hype train as it careens at breakneck speed towards the release of the game. Whether it will live up to its ambitious expectations, we'll have to wait and see, but we do know that when you eventually find yourself meeting your maker under a starry sky on the other side of a vast galaxy, you'll start feeling all philosophical.
Indeed, as you close your eyes, quotes from famous scientists, humanists and historians will appear, leaving you with something to think about in those few seconds while you click on the respawn button or angrily Alt-F4 back to the desktop.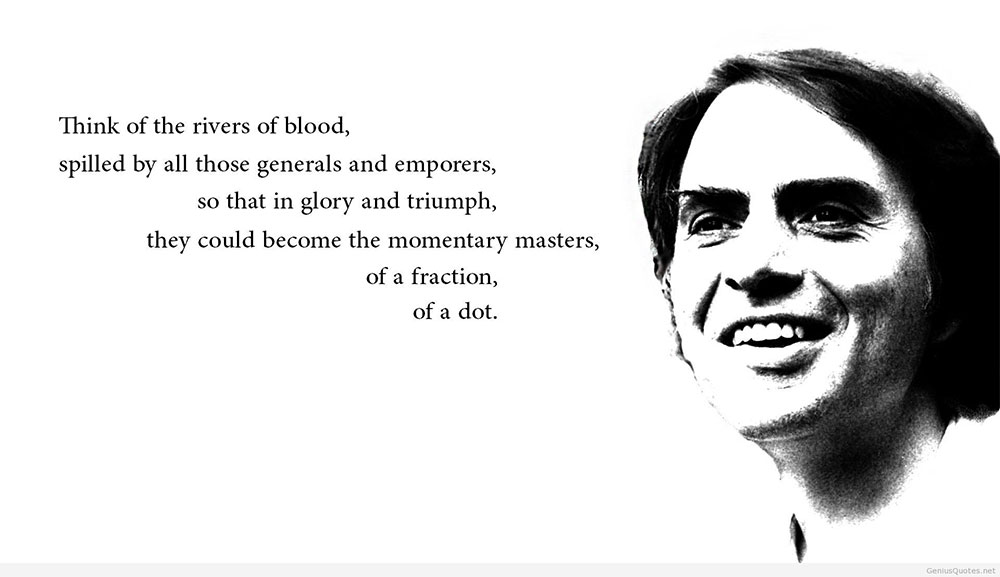 Carl Sagan had a nack for being infinitely quotable. Source: GeniusQuotes
One of the individuals that will be quoted by the game's death screen is Cosmos presenter and astronomer, Carl Sagan, who perhaps will talk about the creation of matter and apple pies. However to make sure that the game doesn't ever feel too pretentious, the developers will also be including quotes from less serious sources, according to GameSpot. One of the suggested luminaries is Jaden Smith. Hello Games wanted to close out its E3 press event with one of his classic Tweets from 2013 which reads, "How can mirrors be real, if our eyes aren't real?" but Sony made it change it.
As stirring as that is, I would prefer the wisdom of some real philosophisers:
[yframe url='http://www.youtube.com/watch?v=krCkL24ae1k']
Discuss on our Facebook page, HERE.
KitGuru Says: As amazing as the technology behind No Man's Sky is, its ridiculous size makes me wonder what it is you'll actually do in the game. How many planets can you visit and ooh and ah at the visuals before you want to do something a little more impactful?