Developer of the world's most popular Esport, Riot Games, has announced a standardised set of punishments and reprimands for players that break the 'Summoner's Code,' making the process of dealing out suspensions and the like much more transparent. In the past it's been criticised for arbitrarily deciding the length and severity of punishments and this appears to be an effort to fix that.
Over the years League of Legends has become a truly dominant Esports platform and though its prize money might not be quite as impressive as the likes of DotA 2, it still has enough money involved in its ongoing play that there are plenty who are happy to bend the rules on occasion. Breaking them however will now land you with a standardised fine, forfeit or suspension, depending on the severity of the action.
The new Penalty Index, as Riot has termed it, details three distinct categories of wrong doing: General Penalties, In-Game Penalties and Administrative Penalties. They run the gamut from failure to sign the right contract before joining the League Championship Series, to unauthorised removal of your headset before the end of a game.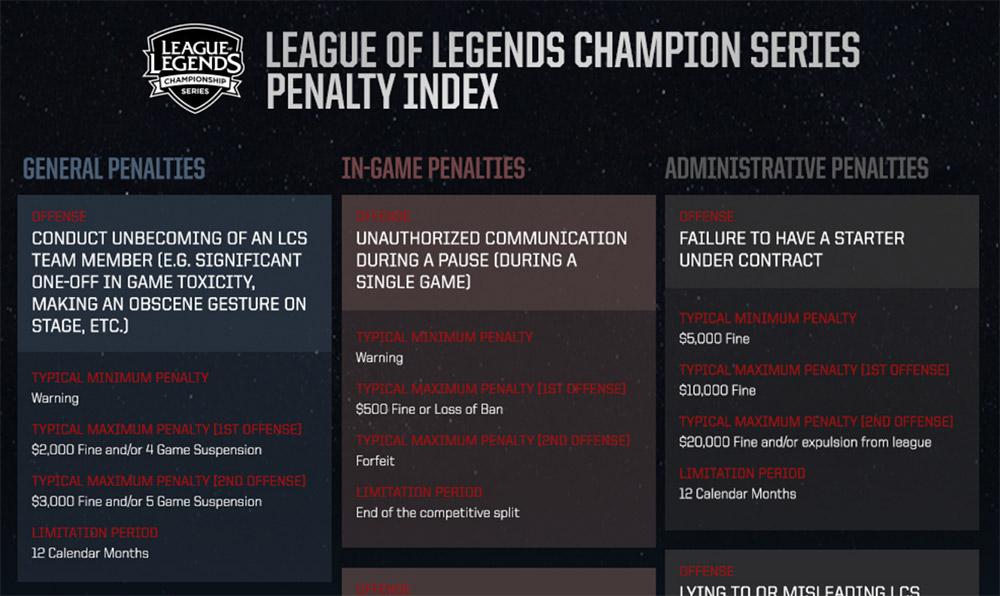 Some of these are incredibly light, with players simple receiving warnings as the "typical minimum penalty," though each action also has a maximum penalty too. Those can extend far further, with automatic forfeiture of a game, thousands of dollars in fines and in some instances a lifetime ban of a player altogether.
As well as making these offences clear for all to see, thereby making the process more transparent for players and fans alike, it's hoped that this will also make the process of doling out punishments faster and easier for Riot. It will no longer have to make a decision based on every case, it can simply refer to the rule book and enact the appropriate punishment.
Discuss on our Facebook page, HERE.
KitGuru Says: Do you like that Riot has introduced these minimum and maximum penalty notices? It seems to at least make it all clear what is at stake in certain instances now, instead of Riot pulling a punishment out of the hat.