Even though pre-orders across the industry are declining, publishing giants like Ubisoft, Activision and indeed, Warner Bros, are still trying to tempt us into putting down money for games that aren't even released yet in an effort to better gauge how many copies they will sell – and to get paid before we've had a chance to play anything. The same is true for the upcoming Lord of the Rings spin-off title, Shadow of Mordor, which has just had its season pass announced, which provides unique and early access content.
As you might expect, much of the content is going to be simply a pre-order of DLC set to be released down the road, like the Trials of War challenges, which will see players tested in different scenarios and against different types of enemies, with points awarded for taking less time than others to take them down. You can then compare your scores against friends and other gamers around the world.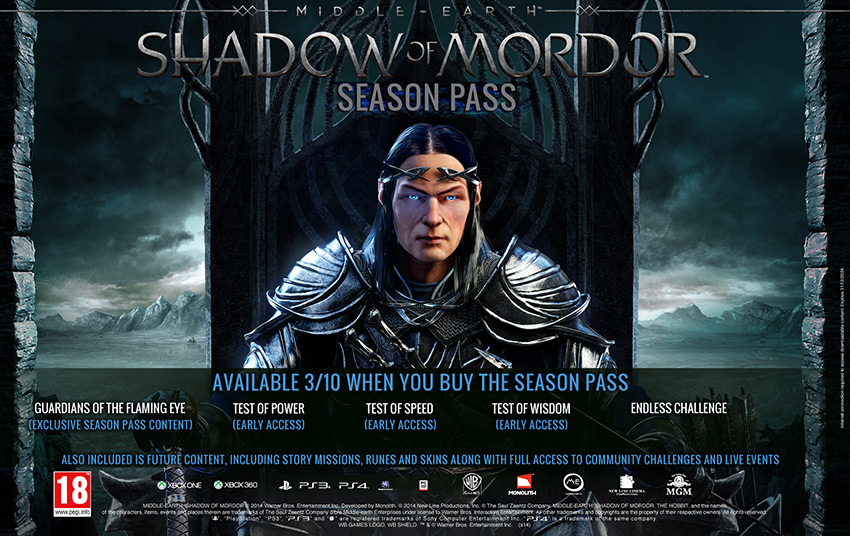 You'll also get access to some specific content not available elsewhere, including the Guardians of the Flaming Eye, Orc Warband mission, the ability to play as Celembrimdor, your spirit alter-ego himself, and the addition of hidden monster lairs that you can search out and destroy the foul beastly occupants of.
There will also be new story missions released further down the line, which you can gain early access to.
However, what is a little different about this season pass, is that it also hints at something more exciting: live events. There's no explanation of what these live events might be, but theoretically it could be PvP combat of some kind, or perhaps unique combats that players must win separately but cooperatively to take down Sauron's forces.
Shadow of Mordor is set for release on 30th September on Xbox One, PS4, PS3 and Xbox 360 and Windows PCs on the 2nd October. The DLC will become available for early access on the 10th of October.
Discuss on our Facebook page, HERE.
KitGuru Says: While I don't like the idea of not only pre-ordering a game, but pre-ordering its DLC too with a season pass, the live events mentioned does have me intrigued. What do you guys think that will be about?