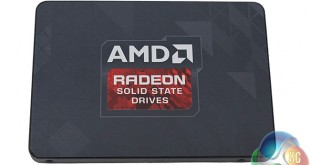 If you haven't upgraded your system yet to include a Solid State Drive, there has been no better time than the present. Recent months has seen a raft of new drives released to market at various price points. The launch today might surprise a few people however – AMD have released their new SSD which they are calling the 'R7 series' … after their graphics cards. The drive is built for them by OCZ and features a high clocked Barefoot 3 controller.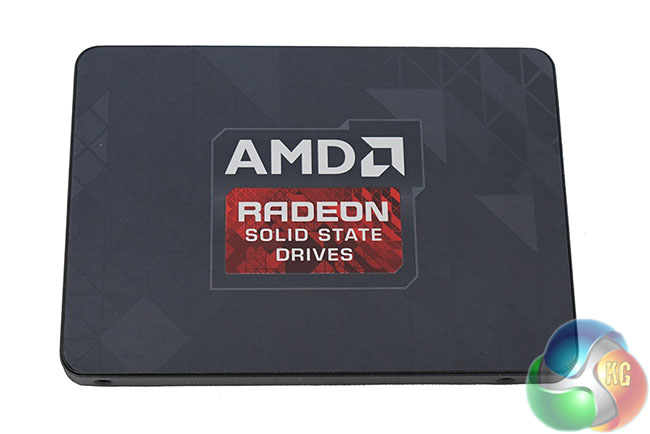 I have to admit a certain amount of surprise when I was told that AMD would be releasing Solid State Drives with the R7 branding. While KitGuru hoped that AMD would have their own controller for these drives, they have entered into a partnership with a well known drive manufacturer.
OCZ are the high profile partner with AMD, donating their Barefoot 3 controller and pairing it up with the latest A19 NAND from Toshiba.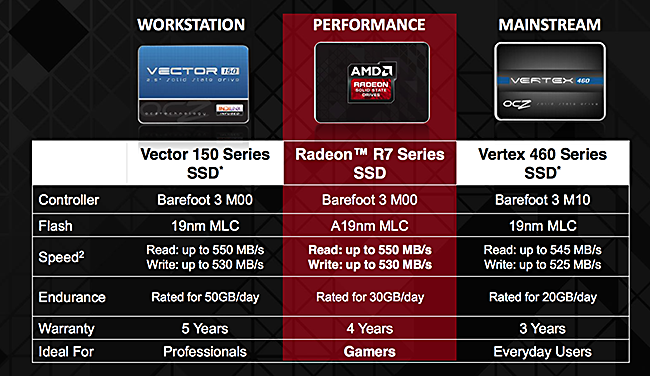 AMD's R7 Series SSD fits in between the high performance Vector 150 Series drive and the Vertex 460 Series. The Vertex 460 for 'everyday users' is rated at 20GB a day under a 3 year warranty. The AMD R7 Series SSD for 'gamers' is rated at 30 GB a day with a 4 year warranty. The Vector 150 for 'professionals' has a 50GB day rating under a 5 year warranty.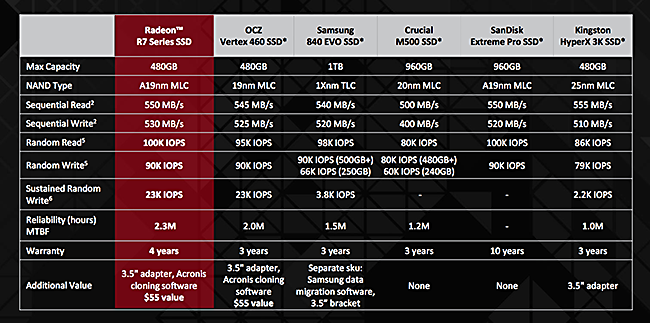 On paper, the R7 drives are delivering very high levels of performance. AMD rate the drive speeds at close to the real world limitations of the SATA 3 interface at 550 MB/s (Sequential read). IOPS performance on the 480GB drive is rated at 100k, which is very high – even outperforming the 1TB Samsung 840 EVO. Reliability is one of the key focus points, with AMD showing a 2.3 million hours MTBF (mean time before failure). This is even higher than OCZ's own Vertex 460 drive.
AMD are releasing three capacities at the following prices:
120GB £59.42 pre vat (74.42 euros)
240GB £97.46 pre vat (122.05 euros)
480GB £177.68 pre vat (195.75 euros)

AMD R7 Series SSD Overview:
SATA III 6Gb/s compatible with SATA II 3Gb/s.
2.5 inch Ultra Slim 7mm Form Factor.
30GB per day endurance rating.
MLC Flash memory
TRIM support
AES 256-bit Encryption.
Acronis True Image HD (data migration software).
3.5 inch SSD Adapter for Desktops.
4 Year Warranty.