I love massive local multiplayer. Four players is great and all, but if you can ever find a game that supports more than that and get enough people in a room, chances are you're in for a treat. It's why I'm still hoping Mutiny! somehow hits its funding target and why I always have my Megadrive hooked up, with a copy of Micro Machines Turbo Tournament '96 slotted in. This December though, we'll be able add another game to that list of massive-local-multiplayer games, as Nintendo's Smash Bros Wii U is going to allow for up to eight players to battle it out locally.
This was revealed by Nintendo in its latest Nintendo Direct broadcast to fans, showing off some gameplay, as well as some of the features not yet announced – like the larger local battles. Unfortunately, due to that many players not adequately fitting on the standard maps, Nintendo did have to designate four larger versions of certain maps for the up-to-eight player games.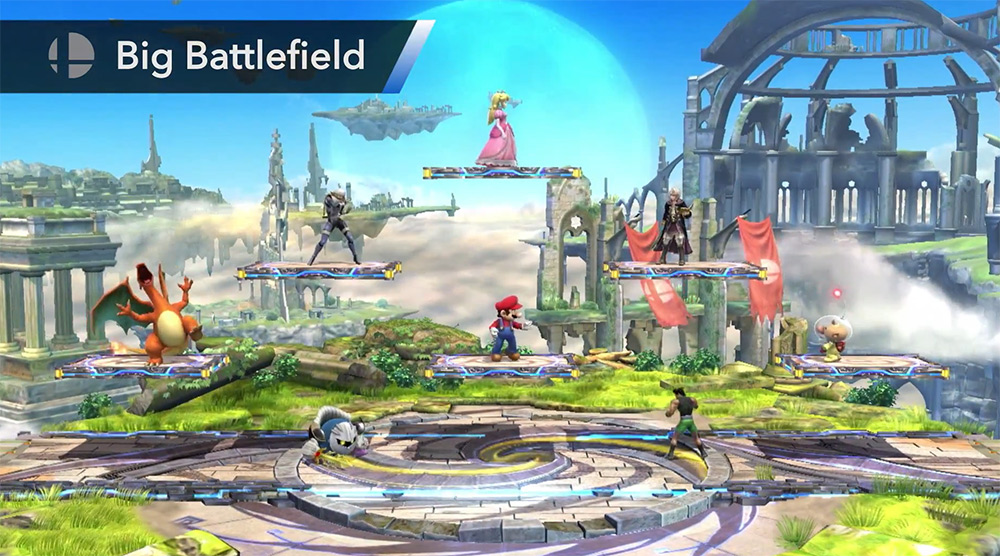 The 30 minute broadcast also shows a comparison between many of the stages found on the recently released – and well received – 3DS version and the Wii U version. There's plenty of classic maps done up with prettier textures and better lighting than previous games and there's a bunch of new stages too, including ones with unique mechanics, like Donkey Kong County, which has you fighting on two planes with barrels transporting you between the two.
Certain maps will also field time sensitive extras, such as random attacking enemies that appear at night and even some that can join the player's side if they win them over.
[yframe url='http://www.youtube.com/watch?v=j0BBGzfw0pQ']
Along with stock and time based battles, this game also sees the return of coin-battles, as well as stamina mode, where players start at high health and gradually weaken as their HP goes down. Of course you can play around with all of those sorts of options in Special Smash too.
Classic mode returns, but its progression is a little different than before. You'll face off against increasing difficult challenges, though who you face next will depend on how you won in the previous round (Nintendo didn't really expand on this point). There will also be challengers and a rival to contend with, keeping the single player portion of the game relatively random. However if you get bored of playing alone, a cooperative player can fight alongside you, helping you to victory.
And that's not even mentioning the (up-to) four player Smash Tour, which acts like a turn based, real time brawling board game with RPG mechanics.
There really is a lot that Nintendo covered in just a short half hour, so if you're a fan of the series or plan to grab a copy when this lands on Wii U on 5th December (in the EU. 21st December in NA), have a watch, it's well worth it.
Discuss on our Facebook page, HERE.
KitGuru Says: Considering that when the last Smash Bros came out, many people declared it definitive, it's quite impressive all of the new things Nintendo has packed into this version of the game.