Spotify is ending its usage of peer to peer networking technology, after many years of successful usage. Why? It's not clear, but the extremely popular music streaming service is gradually phasing out its P2P roots and transferring everything over to central servers.
It seems like a strange move for the company, since it's impressive rise to power was made much easier by P2P. The technology worked in conjunction with central servers to distribute and stream music to users around the world, meaning that if server load was high, everyone could still listen to music as normal and it also reduced the need for expensive server and bandwidth charges in the early life of the business.
However now Spotify is much larger with a much bigger revenue stream, it says it's more than capable of handling any costs and/or issues that arise from relying on one source for the music.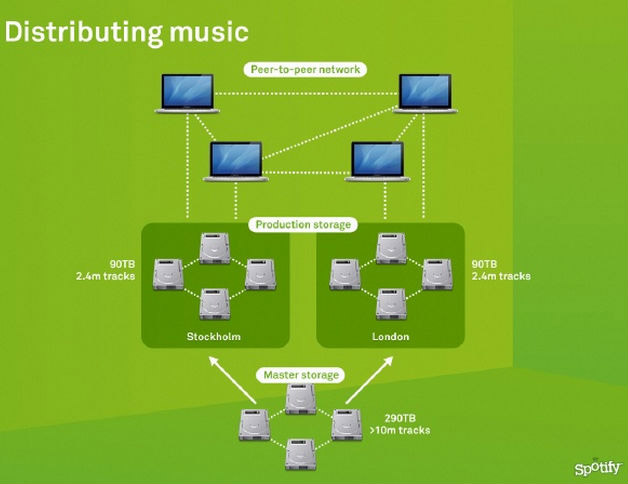 This is the model Spotify is phasing out
"We're now at a stage where we can power music delivery through our growing number of servers and ensure our users continue to receive a best-in-class service," said Spotify's Alison Bonny (via TorrentFreak).
Commenters and fans have taken a few guesses as to why Spotify would deliberately move to incur extra server costs, undoubtedly likely reaching into the millions of dollars a year, over the free and evidently effective P2P. Some suggested that it could be related to NSA snooping, since Skype moved from a P2P system when Microsoft bought it, with some believing that that was to enable easier monitoring of people's activities. Perhaps the same reasoning applies here.
Others believe it's to circumvent increased crackdowns on P2P technology at the ISP level and in business settings. Offices that want to stop their employees torrenting may block P2P traffic, thereby making it difficult to use services like Spotify in those situations.
Discuss on our Facebook page, HERE.
KitGuru Says: What do you guys think of Spotify's move here? And why do you think it's doing it?