Star Citizen feels like it must have an inverse problem to a lot of developers. While many of those making games struggle to come up with the necessary funds to keep the company afloat during development, Cloud Imperium has more than $92 million, meaning it must almost be a struggle to know what to do with it all. One way it's figured out how to spend some of that crowd funded cash is on high profile actors, making the Squadron 42 campaign mode one filled with familiar faces and strong acting presences.
One of those stage strutters makes an appearance in the latest video update to the single player experience, revealed at CitizenCon 2015 in Manchester. As impressive as it is to see Gary Oldman captured so realistically as Admiral Bishop though, his name is far from the only one likely to catch your eye when the credits roll.
[yframe url='http://www.youtube.com/watch?v=8EC4WHPxnrk']
Mark Hamil is there, as are Mark Strong, Andy Serkis, John-Rhys Davies, Liam Cunningham, Rhona Mitra and Gemma Whelan, as well as Gillian Anderson, Craig Fairbrass, Jack Huston, Ben Mendelsohn, Harry Treadaway, Ian Dunan and Sohpie Wu.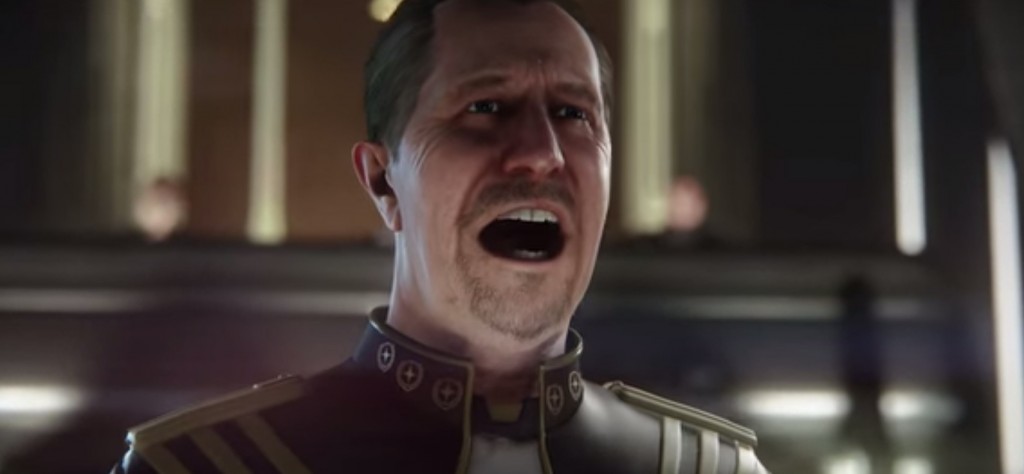 "How many ships shall we send sir?" "EVERYONE!"
As well as a strong talent roster across the board, there's also an impressive number of English actors making an appearance. You can see them talking about the process involved in 'filming' for such a game in a behind the scenes video also released at this year's CitizenCon.
[yframe url='http://www.youtube.com/watch?v=T4oOL26Qn7U']
And there's even a break down of how that impressive facial animation technology works (thanks Kotaku).
[yframe url='http://www.youtube.com/watch?v=G1eLecTsTSw']
Discuss on our Facebook page, HERE.
KitGuru: Maybe I'm using rose tinted glasses, but LA Noire's facial animations feel almost a little more comfortable. I wonder if the higher definition textures and detailing in Star Citizen have us on a deeper point in the uncanny valley?