If you open up your Steam account this morning, the Store page will look a little different than you remember. In a large update, Valve has overhauled the aesthetics and layout of its storefront once again, this time easing back on the free-flowing look that had dominated for a while and making the whole thing more personally curated.
Although you'll still find game offers, new releases and deals listed at the top of the page, everything should be more to your taste and you can get more information with less clicks. For starters, each featured game has a set of quick-options for preferences, letting you customise the types of games that show up – including those with or without violent and sexual content.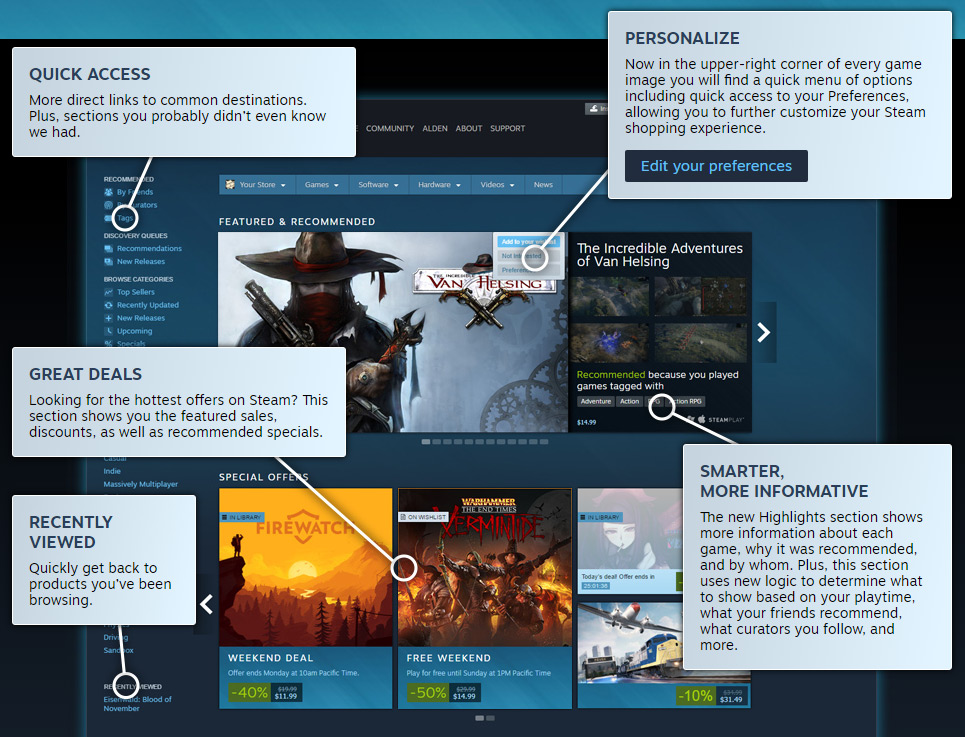 Each game showed this way also comes with screenshots, recommendations, platform support and categories, to help you better understand what each games is. The storefront now also offers links to recently viewed games and quick-access categories, helping users find their way to specific content more easily, as well as showcasing some of the more niche game genres that Steam supports.
Although the discovery queue will still exist, helping you to find new games to purchase and play, the new Steam storefront is also weighting curated content more heavily. A new expanded curator recommender will give you a scroll bar and feature showcase of specifically curated titles. However, each curator can now provide information and warnings about games, without recommending them – letting followers better understand their position.
Underneath it all you'll find some of the more traditional looking Steam lists, including the age old popular releases, top sellers and upcoming deals – though you can further personalise those lists and each one comes complete with screenshots and information on the launch page. You don't need to click through like you once did.
Discuss on our Facebook page, HERE.
KitGuru Says: The new layout looks cleaner and more informative than before. Valve has done a pretty great job this year of overhauling some of the less useful aspects of the service, so it's good to see that continuing as we close out 2016.