Seeing anything in Sunless Sea is a challenge. You have to have your ships' lonely, single light pointed in the right direction and you need to make sure your mirror skill is high enough or taking pot shots at anything is going to be very difficult. One thing the developers have managed to spot though is the game's release date, marking the end of its long running Early Access period on the 6th February.
Mixing Lovecraftian creepiness with its own Fallen London universe, Failbetter Games Sunless Sea has you travelling around an underground ocean, exploring islands and their inhabitants through deep and engaging text adventures. The stories are concise though and while the interface can be a little confusing to begin with, its deep and engaging. And brutal. Expect to die a lot early on if you have little fear for the inhabitants of the Underzee.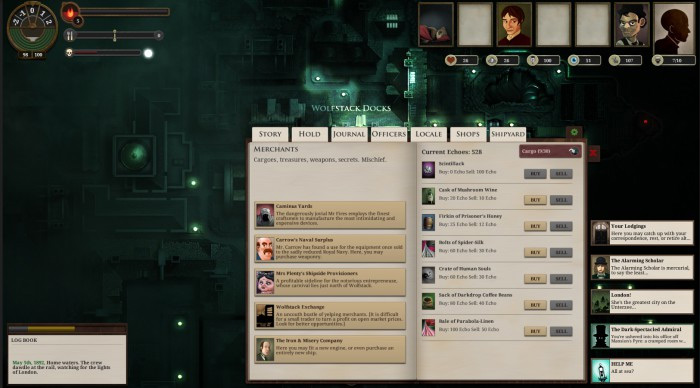 While a little complicated off the bat, the interface ends up being relatively intuitive
The game's come along apace, entering early access in July last year, after a successful Kickstarter campaign in late 2013. Since then major overhauls of the combat and other systems have taken place, expanding the game's playable areas and deepening the story.
While Sunless Sea is set for release at the start of next month, if you pick it up while it's still in Early Access, you'll receive all future updates and DLC for free.
You can pick up Sunless Sea on Steam and the official site (for slightly cheaper) now, or on GoG when it releases.
Discuss on our Facebook page, HERE.
KitGuru Says: This is a game I had quite a lot of fun with a while back, but wasn't impressed with the combat. I hear it's much improved now so it might be time I went for a dip in the Underzee once again. 
[Thanks PCG]